Spot Hops: Filling Gaps That Contracts Leave Behind
Growing breweries often view sourcing hops in black and white terms: Hop contracts are for larger breweries and the spot market is for smaller players. It's understandable. On the one hand, for many breweries, the ability to contract hops is a clear sign of growth. And on the other hand, it can be hard to fathom that wildly successful breweries source hops in the same way as a startup.
The fact of the matter is that the spot market is a powerful resource for breweries of all sizes. From supplementing contract hops and fueling innovation to enabling agility and preserving budget flexibility, spot hops can be an invaluable tool that benefits your beer and your business. However, breweries often encounter challenges navigating the spot market – whether it's sourcing high-quality hops, finding the varieties that you need, sorting out misconceptions, or not knowing how to approach the marketplace in the most advantageous way. This guide will walk you through the benefits of and best practices for buying spot hops.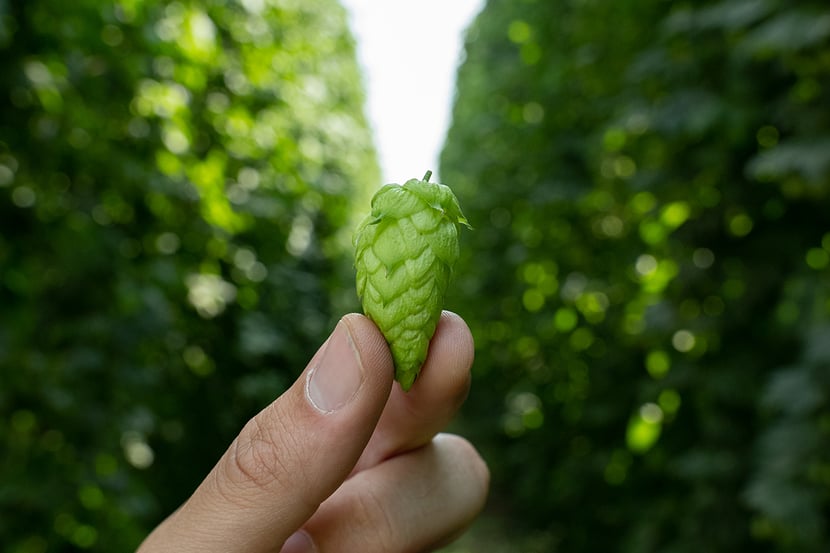 Today's Market Increases the Importance of Spot Hops
The combination of a rapidly changing consumer market and an increased emphasis on innovation has repositioned the spot market, making it more important than ever before.
As today's beer enthusiasts abruptly move from one trend to the next, breweries have had to be nimble to satisfy demand and stay competitive. That has meant moving away from a predictable portfolio of flagship beers and seasonal releases to constantly developing and releasing new beers. At the same time, the ongoing introduction of experimental varieties has provided brewers with the means to continually create new recipes.
The need to continuously expand their portfolio through ongoing innovation and iteration makes it hard for brewers to forecast their hop needs too far out. While that may lessen the appeal of a multi-year hop contract, it plays to the strength of spot hops, which can provide significant benefits to brewers in a fast-paced, continuously changing market.


4 Misconceptions About Spot Hops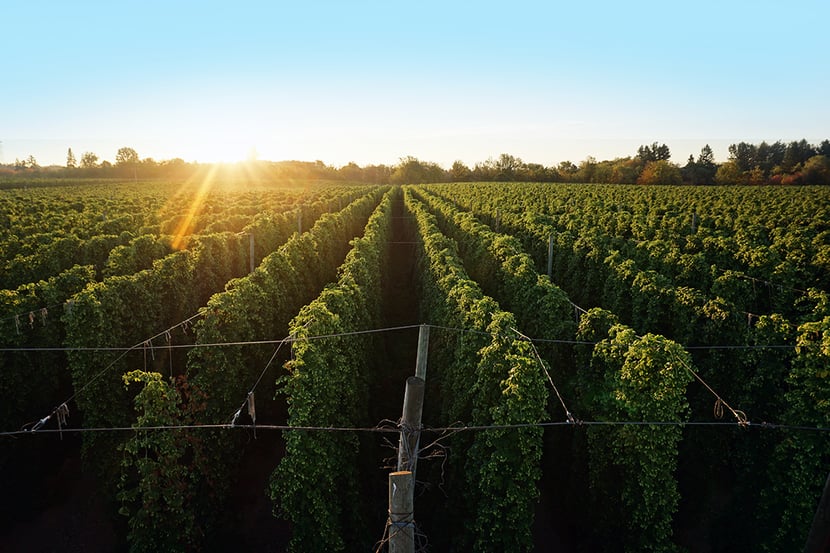 Before we dive into how you should be thinking of spot hops and the ways in which they can benefit your business, let's clarify a few widely believed misconceptions.
Spot hops are lower quality: If you're working with suppliers that hold themselves and their hops to high standards, and have quality standards in place to ensure it, your spot hops should be every bit as good as what you'd get via a contract.

That's not to say that the hops found on the spot market don't vary in quality. But when you work with the right partner, no matter the size of your brewery, you'll get access to consistently great hops every time you order.


You always get this year's crop: When you purchase hops through a contract, they're always from the harvest for the year contracted. When you buy spot hops, that's not the case. Because hops retain their quality for three to five years when properly packaged and stored, it's common to find hops from previous years on the spot market (Crosby doesn't sell any spot hops harvested more than three years ago).

While many brewers view that negatively, it can actually be a good thing. This year's harvest isn't necessarily better than last year's. Each year's crop is different, and sometimes a previous harvest produces a vintage that's preferable to the current crop and which you can continue to access on the spot market.


You get the same lot number every time you order: As with crop year, you may not get hops from the same lot each time you buy on the spot market. Think of lots as a group of hops that go through the pellet production process together. While they're all the same crop year, each lot is impacted by processing differently, resulting in different analytics (higher or lower alpha acids, for instance).

When brewing with different lots, you should adjust recipes to account for differences in analytics and ensure consistency from one batch to the next.



Spot hops offer more flexibility than contracting:

This is true – but only to a limited degree. The problem is that it assumes a large minimum purchase for hop contracting, and that isn't the case. Crosby's minimum purchase volume for spot orders is 11 pounds, which is both a low barrier to entry and a minimal commitment.

However, Crosby's minimum hop contract volume is just 220 pounds and only 88 pounds per variety. While that may read like significantly more hops, it's not when you consider the volume of hops used in today's IPAs and pale ales. Yes, spot hops offer flexibility, but you can stay nimble with a modest hop contract while reaping benefits such as guaranteed pricing and crop year.
The Benefit of Spot Hops: Flexibility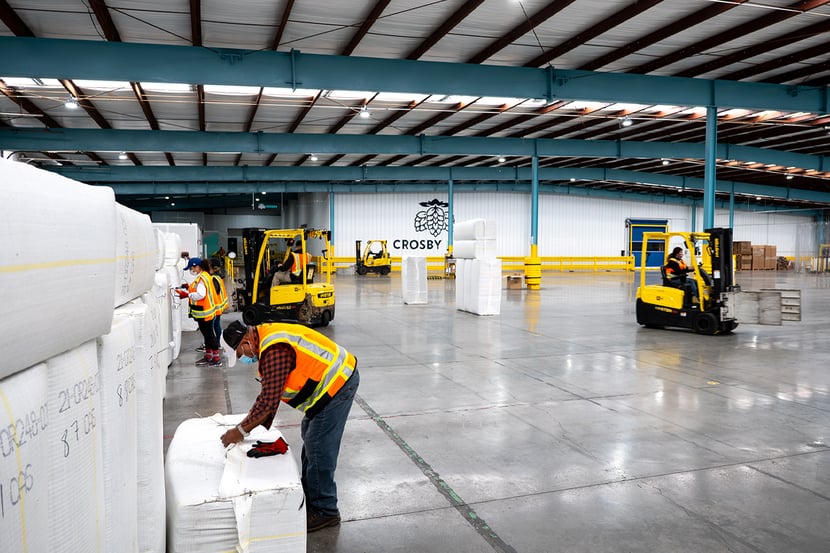 The biggest benefit of sourcing hops through the spot market can be summed up in one word: flexibility. That flexibility is largely the product of your ability to buy small amounts of hops as needed. It's a small investment with no further commitment. However, the flexibility afforded by spot purchases manifests itself in distinct and important ways, such as:
Budget: For a young or growing brewery still getting the hang of the business side of brewing, maintaining budget flexibility can be critical. Spot hops allow you to buy what you need without a significant long-term investment while freeing up valuable capital.
Innovation and development: The ability to buy small amounts of hops as needed – or wanted – makes it easy to continually experiment with varieties. With the flexibility to innovate, you can continually evolve your portfolio to meet changing trends and appeal to consumers who are constantly looking for something new.
Storage: Space is a valuable commodity in any brewery. With spot hops, you have the ability to only order hops in volumes that you can safely store. There's no worrying about finding space for a year's worth of hops or paying a supplier to store them for you.
Forecasting: For many breweries, one of the more challenging aspects of the business is forecasting their needs. Hop contracts require you to predict the varieties and volumes of hops you'll use a year out (if not more). Spot hops don't require forecasting – you just buy as you go – so a mistake won't saddle you with unneeded inventory or misallocated budget. You can also use spot hops to closely track your orders, usage, and needs in preparation for contracting.
Tips for Small Breweries
Although it's not necessarily true that small breweries can't, or shouldn't, contract hops – most breweries producing 300-plus barrels annually can benefit from contracts – they are the ones that typically rely on the spot market for most of their hop needs.
While some small breweries aren't able to hit contract minimums or find it challenging to accurately forecast their needs, others enjoy the flexibility and freedom spot hops provide. Whatever the reasons, these four tips will help small breweries leverage the spot market to advance their brewing and business.
Lean into purchasing hops based on sensory notes such as aroma and flavor rather than locking in on a specific variety. This can provide flexibility in recipe creation and innovation, help keep pricing down, and make you less reliant on harder-to-find hops or those that often sell out fast on the spot market.


Focus on securing high-quality versatile hops rather than chasing high-profile varieties – you'll see better utilization and save yourself time and money.


Diversify between public and private varieties to reduce costs, increase margins, and stretch high-demand varieties further. Diversification will also allow you to mitigate risk by preventing you from becoming over-reliant on one or two varieties that could upend your brewery should sourcing them become a problem.


Establish a relationship with a trusted supplier and regularly communicate your needs to your account manager. This can keep you ahead of the market and make it easier to secure hops critical to your business – a good account manager will inform you of what to expect after each harvest and keep you current on what varieties have been added to spot, what's running low, and what has sold out.
Even if You Have a Contract, the Spot Market Can Be Important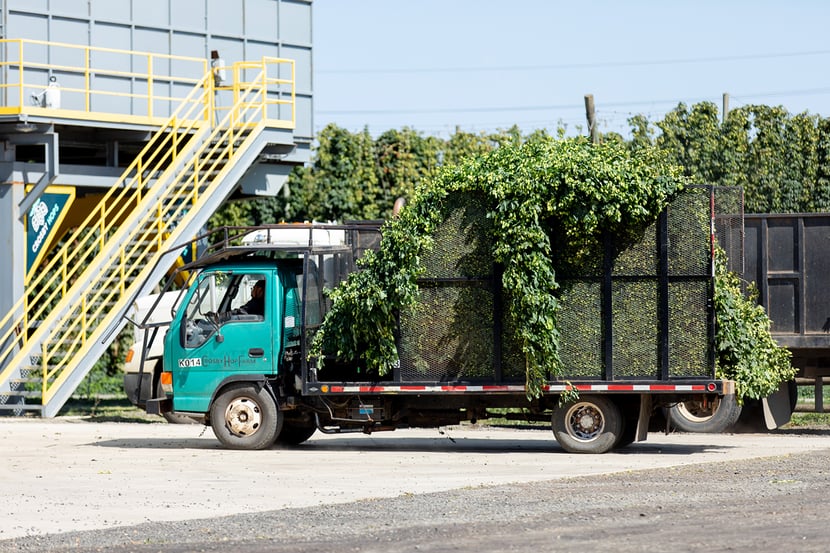 You never outgrow the spot market. Even when breweries reach a point in their growth where contracting is advisable, the spot market should remain a valuable tool. Successful breweries balance contract and spot hops as means to continue evolving their beers and meet ever-changing business needs.
Some reasons to tap into the spot market even when a contract is in place include:
Expanding production: The spot market can help you ramp up production while you work with your supplier to increase your contract volumes.
Ongoing innovation: The ability to purchase spot hops in small amounts makes it easy to experiment with new varieties for pilot beers or small-batch releases.
Your contract inventory ran out: Spots hops can serve as a valuable stopgap in the event that you under-forecast your needs or sales exceed expectations.
A new recipe is an unexpected hit: A wildly popular beer can instantly blow up your forecast and eat into your hop inventory. The spot market can supplement your needs to meet consumer demand and maximize sales.
Evaluating a new supplier: Purchasing spot hops is a good low-risk test that allows you to get a sense of the quality of the hops they provide and the type of experience you can expect.
You just opened: For new breweries contracting hops, it's best to play it safe and forecast modestly. Should you need more inventory, the spot market is a low-risk fallback that allows you to continue to assess your needs without overextending yourself.
What To Look for in a Spot Hop Supplier
Finding a reliable supplier to support your spot hops needs can be a huge advantage for any brewery. The right partner isn't just a trusty connection to the hops you need – they can also help you effectively navigate the market, saving you time and resources. Here's what to look for when choosing a spot supplier.
Quality: Buying on the spot market should never mean accepting lower quality hops. Only work with suppliers that ensure you get the same access to high-quality hops as a contract customer. Ensure they have quality standards for each step of the supply chain and provide full transparency – such as where the hops were grown, processed, and stored – and offer Certificates of Analysis.
Responsiveness and communication: Work with a supplier that not only gets back to you promptly with answers to questions but also proactively communicates information about the availability of the hops you need. In the event that the hops you want aren't available, your supplier should be able to recommend viable alternatives and solutions.
A long-term partner: Just because you can buy as you go on the spot market doesn't mean you should have a transactional relationship with your supplier. Look for a supplier that views spot purchases as an opportunity to build a long-term relationship that advances your brewing and business needs.
Ease of ordering: A supplier that offers a platform that enables you to quickly and easily order hops and track shipments from anywhere at any time of day can save you time and frustration.
Order turnaround: When you're trying to plan your production schedule, there's a big difference between a supplier that gets hops to you within three days versus one that takes up to 10 days.
Values: Your vendors are an extension of you. Work with those that share your values or can help you achieve your vision. If community is important to you, work with suppliers that are active within their local community and the beer community. If you want to be a sustainable brewery, partnering with sustainable suppliers is a simple but meaningful step in that direction.
Let Your Brewing Model Be Your Guide
Many breweries struggle with when to contract hops and when to use the spot market and what percentage of their sourcing each should represent. Unfortunately, there is no one ratio that every brewery can use. Ultimately, when and how you use spot purchases depends on your brewing model.
Consider two 500-barrel breweries. One features a fairly balanced and predictable portfolio of IPAs and lagers, with a new release every month or so. The other leans heavily into IPAs, with new releases introduced weekly. The first brewery may primarily rely on contracts to secure their hops and only use the spot market to supplement its inventory and develop new recipes. The latter may source most of their hops from via the spot market and only contract one variety consistently used in multiple recipes.
When and how you use spot hops is not a function of size or success, it's what makes sense for your brewery. Once you get a feel for your needs and how to best leverage spot hops, they can be incredibly beneficial to your beer and your business.