Well, That Rocked: A Roundup of the Rock On Collaboration
Rock On, our collaboration to benefit Sweet Relief Musicians Fund, is a wrap. But we're ready for an encore.
On July 13, the International Day of Rock and Roll, breweries from across the country teamed up with their favorite musicians to collaborate on this inspired beer. In the weeks since then, they have filled cans and kegs for release parties to celebrate the power of music and raise funds for musicians impacted by the pandemic.
As part of this collaboration, Crosby committed to donating 100% of the profits from hop sales for Rock On. As a result, we raised $20,000 for Sweet Relief Musicians Fund. That total does not include contributions from participating brewers or funds raised from taproom sales and release events for Rock On Crafted Lager.
"There is an obvious synergy between breweries and music, as many breweries feature live music in their venues," said Aric Steinberg, Executive Vice President of Development and Artist Relations at Sweet Relief. "It was gratifying to see the excitement from the brewers who participated in the campaign, many of whom have reached out to us directly to offer additional support."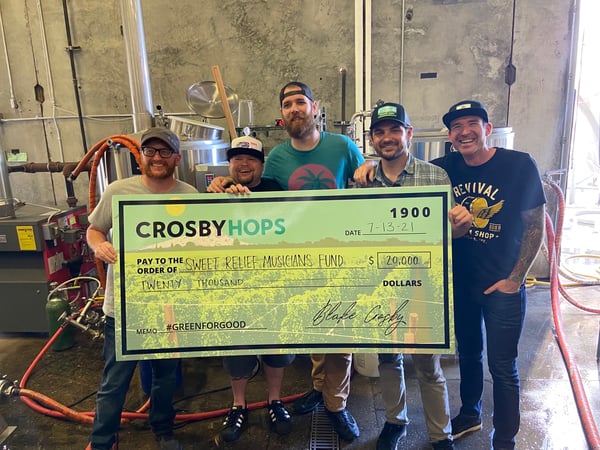 An Epic Performance
Epic concerts, those transformative shows that forever alter your DNA, are bookended by defining moments that are as distinctive as the gig: the anticipation and the aftermath.
In the final moments before the show, when the lights go down and the amps begin to hum, your nerves buzz with expectation, the anticipation of what will be – the first notes, the first song, a night like few others. In the aftermath, in the minutes, hours, and days after the last chords fade, you have the opportunity to relive it all again, recalling the memorable moments.
The days leading up to Rock On were filled with anticipation, the excitement of knowing we were about to be part of something special. It fulfilled our every expectation. Now, in the aftermath, with Rock On Crafted Lager filling cans and flowing from taps, we can revisit what was a killer event.
A Mixed Tape of Rockin' Hits
Dozens of breweries took part in Rock On, creating their own unique rendition of the Rock On Crafted Lager and in the process helping to deliver much-needed relief to musicians and crews. Here's a taste of some of the performances and the inspiration behind them, as told by the breweries.
Silver City Brewing
As co-creators of Rock On and having developed the base recipe for Rock On Crafted Lager, Silver City Brewing had been rocking pretty since day one – they even created the master Rock On can design. And yet they somehow managed to turn it up another notch on brew day.
Music's role at Silver City
Music is a big inspiration for our beer names and ties us to the community through local bands. It's also a mood-lifter for our brew and packaging teams while they're working their magic.

On the significance of live music
Live music brings people together much like craft beer does. You forget your differences and bond over a mutual love. When you can be in a room filled with that kind of energy, there's nothing better.
Why they chose to Rock On
We've always had a focus on music at Silver City. It is a big part of our culture here. Being part of the team that created the Rock On initiative has been a great honor. We couldn't be happier to participate and look forward to seeing it grow in years to come.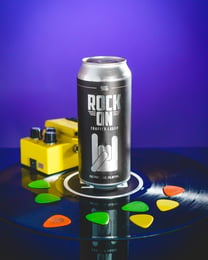 Their rendition of Rock On Crafted Lager
Inspired by the classic tallboys served at concert venues, we used Chinook and Sterling hops for a touch of pine and citrus that shine through the Pilsner malt and provide a subtle twist on classic flavors.
Who they jammed with
MxPx brought the punk rock to our Rock On beer. MxPx has been a huge partner with us at Silver City Brewery, so it was a no-brainer to bring them into this collaboration. Despite being internationally known in the punk rock community, they're Bremerton locals, big craft beer fans, and some of the nicest people you'll ever meet.
Sierra Nevada
Sierra Nevada and music go in hand-in-hand. Their legendary pale ale is a mainstay at concert venues across the country. And with the Big Room at their Chico, California brewery, and an amphitheater at their Mills River, North Carolina location, it's clear why Sierra Nevada jumped at the chance to Rock On.
Music's role at Sierra Nevada
We have music venues at both of our breweries and usually host a couple of concerts a month, so it's a big part of our brand.
On the significance of live music
Personally, live music is where I discovered Sierra Nevada Pale Ale – and craft beer in general, in a Grateful Dead parking lot in 1984. (Terence Sullivan, Product Manager)
Why they chose to Rock On
Working with like-minded brewers and growers is always of interest, but when we found out it included our friends in the live music industry, it was a win-win.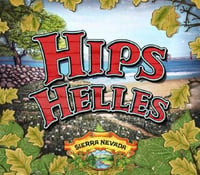 Who they jammed with
We collaborated with Chico's very own The Mother Hips to produce Hips Helles.
Their rendition of Rock On Crafted Lager
A Helles lager featuring Hersbrucker and Strisselspalt hops.
The big release
It's a draft-only release that will be served in our pub and at September's HIPNIC, an annual music festival headlined and curated by The Mother Hips in Big Sur.
Kulshan Brewing
The close connection between breweries and local musicians helps create strong bonds and fruitful relationships, as evidenced by Kulshan's support of the local scene and their all-in, Boss-inspired collaboration.
Music's role at Kulshan
Music has played a big role in community-building at the Kulshan taprooms over the years. This summer we opened a new location, Kulshan Trackside Beer Garden, and live music has been an integral part of making it a success. We have multiple local bands playing there every week and have really enjoyed creating a fun, lively outdoor space for everyone to come enjoy live music together again.
On supporting local music
Supporting local musicians has always been important to us, and now more than ever, we are seeing the community rallying around to support live music.
Why they chose to Rock On
We love working with Crosby Hops and thought this collaboration would be a great way to celebrate and support the return of live music this summer!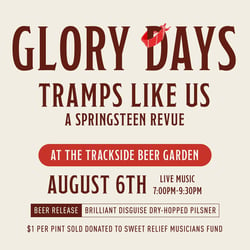 Who they jammed with
Our head brewer Wes loves Bruce Springsteen, and we thought it would be fun to find a cover band to play for this collaboration. We reached out to a local musician, Robert Blake, to see if he knew of any Bruce cover bands in Whatcom County. He was able to bring together several local musicians, including John Elliot and members of the band Cumulus, to form a band for this event. That's how Tramps Like Us: A Springsteen Revue was born!
Their rendition of Rock On Crafted Lager
Brilliant Disguise (a cut from Bruce's album "Tunnel of Love") is a dry-hopped Pilsner featuring Sterling, Wakatu, and Amarillo™ hops that will be a draft-only release.
The big release
We threw a big old release party at our Trackside Tavern that we decided to call Glory Days, with Tramps Like Us headlining the event.
Ska Brewing
When you name your brewery after a genre known for its unique marriage of sounds and styles, it's a pretty good bet that music is a source of inspiration and you'll jump at the chance to support those who make it.
Music's role at Ska Brewing
Our whole theme is based on it.
Why they chose to Rock On
Music brings us all together. It's there for us in times of happiness and sadness. This was a chance for us to collaborate for a great cause that means a lot to this brewery.
Who they jammed with
The Toasters. They have deep roots in Ska music, have been a band for 40 years, and have played many of our anniversary parties. They also helped in developing the idea for the ingredients we used.
Their rendition of Rock On Crafted Lager
Our version was meant to make a crisp lager that could be enjoyed by friends at a show. Smooth and refreshing, it features Sterling hops in the boil and is dry-hopped with Amarillo for a touch of citrus.
Fort George
Fort George's love of music runs deep – from hosting a weekly Sunday night music series to putting on its annual Festival of Dark Arts, which features multiple stages and over a dozen bands. It's no surprise, then, that they required no convincing when asked to Rock On.
Music's role at Fort George
We LOVE music. We have collaborated with record labels, recording magazines, bands, and festivals. Our Festival of Dark Arts has up to 16 bands in eight hours on three stages. We have sponsored theatres, bands, and recording studios. Music plays a HUGE role.
We have hosted our Sunday Night Music program almost every Sunday since we opened in 2007. Sunday nights have always been about giving back to our community and in particular the service industry, many of whom have Mondays off. This was not about making money, and in fact, we often lose out after paying musicians and sound engineers and giving up tables for music. It was always to support music and give some consistent, weekly music to our community.
Why they chose to Rock On
Why would we say no when someone asked us if we want to Rock On?! But really, there is no beer without music. Our brewers simply would not do this day to day if they could not listen to music. Someone has to make that music and those someones need to make their money touring.
The pandemic made it impossible to tour, and those musicians were not in a position to easily apply for unemployment. They were among the hardest professionals hit during the pandemic, and we knew that this was an easy, collaborative way to step up.
Who they jammed with
We collaborated with The Builders and the Butchers, who played our first-ever Festival of Dark Arts back when it was just held at a pub and the festival was 200+ people instead of 2,000+. Since then, we've had them back whenever we can. They're an amazing live band and we found ourselves missing that energy. Though they are from Portland, they have made Astoria kind of a second home and embody the ethos of "Rock On."
Their rendition of Rock On Crafted Lager
The Builders and the Butchers have a song we really like called "Black Dresses," so we knew it had to be a black lager. We used Crosby Sterling as the featured hop to give it some Northwest flavor.
The big release
It's being released on September 19 for our Sunday Night Music Series, which The Builders and the Butchers will play with opener Autopilot is for Lovers.
Austin Beerworks
Austin, Texas is known for its incredible music and beer scenes, not to mention an unrelenting summer heat that's tailor-made for crisp, clean, and crushable lagers. It's no surprise, then, that Austin Beerworks' collaboration featured a musician that sometimes pulls double duty as an employee.
Music's role at Austin Beerworks
Music is a heartbeat here at Austin Beerworks – it is part of the ingredient list as well as a part of the culture.
On why they love and support live music
Live music is a true connection to the artists that you love. Also, it provides some of the freest and most present moments a human can experience. It is part of the fabric of our beloved city of Austin.
Why they chose to Rock On
The crews that run live music and make it happen are probably some of the worst affected by the pandemic and shutdown. Also, they are some of the hardest working individuals doing a mostly thankless job, so they deserve some love!
Who they jammed with
Kyle Shutt of The Sword. They shred and are getting ready to go on tour for the first time since the pandemic started. Kyle works here from time to time when he is not melting faces. He worked with us on the flavor profile and what we wanted the beer to drink like.
Their rendition of Rock On Crafted Lager
The Texas summer is a pretty good motivator to make some refreshing crushable hoppy lagers! We wanted to have a beautifully pleasant base but showcase some Pacific Northwest hops. We started with a simple pale lager base and used Idaho 7® and Amarillo hops for notes of citrus, pine, and stone fruit.
All Killer, No Filler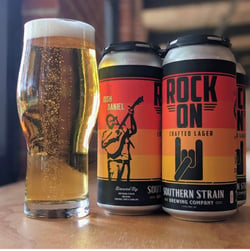 Those were just some of the breweries that let it rip for Rock On. Breweries of all sizes and stripes stepped up to work with their favorite musicians to support Sweet Relief. A few of the other mind-blowing performances include:
Fifth Hammer Brewing in Long Island, New York collaborated with El Chico Blanco band on a dry-hopped lager that featured Amarillo, Chinook, Centennial, Idaho 7, and Sterling hops.


North Carolina's Southern Strain Brewing collaborated with singer-songwriter Josh Daniel for a version of Rock On Crafted Lager that used bock yeast for a sweet maltiness beautifully complemented by Amarillo and Centennial hops.


Level Crossing Brewing out of Salt Lake City did a version that featured Solstice Pilsner malt and Solstice flaked corn alongside Idaho 7 and Amarillo hops.
"We're so proud and excited to be a part of this collaboration!" said Mark Medura, Level Crossing's founder. "It strikes a personal note since we're self-proclaimed music nerds that help our local music scene as much as possible. We have live music on a 1946 Chevy flatbed truck that we converted with a mural behind it painted by Jann Haworth, who is best known for co-designing The Beatles' Sgt. Pepper album cover."
Sample Some Rock On Crafted Lager at CBC
The spirit of Rock On was to take a base beer and have breweries make it their own, in the same way that a killer band can turn a classic song on its head and make it their own. Mission accomplished. Each Rock On Crafted Lager is unique and reflects the inspired vision of the breweries and bands that created it.
If you want a chance to taste a couple of crushers from the Rock On lineup, we'll be pouring the Silver City and Ska Brewing versions at CBC lounge 1B. Swing by to sample both, as well as a number of other great beers, and maybe think about what your rendition would be.
Let's Keep Rocking
If you were unable to take part in Rock On and collaborate on your version of the Rock On Crafted Lager, you can still show your support for working musicians impacted by COVID-19 with a direct donation to Sweet Relief Musicians Fund.
You'll also have the opportunity to join next year's Rock On collaboration. This is not a one-off event. While some bands are touring again and live music has come back on a small scale, the industry is still very much in a state of emergency.
"It will take a long time to recover and many musicians will never financially recover completely," said Sweet Relief's Aric Steinberg. "Life savings depleted, homes lost, huge credit debt – it's tragic and heartbreaking."
Even in the best of times, most working musicians face uncommon hardships. Without health or disability insurance or paid time off, any serious health issue can put them in dire financial straits. Rock On can help offset those pains by raising funds that Sweet Relief can use to help musicians meet their health care and living expenses.
Contact us to get on the list of breweries that will take part in next year's collaboration.