The Perfect Hop Harvest Trip Starts and Ends in Portland - Updated for 2023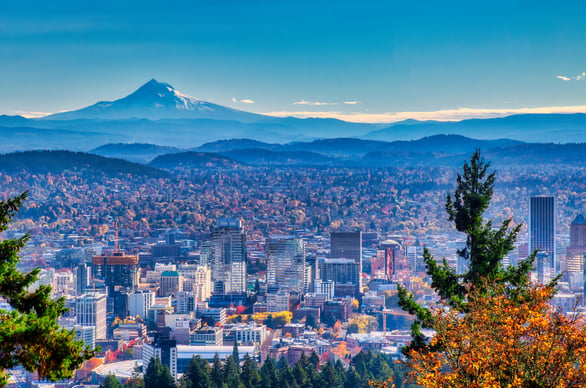 Every fall, brewers make the journey to Yakima, Washington for hop harvest. It's an annual rite of passage, with brewers from across the world descending on this agricultural community.
It's also a journey that follows a predictable path. Everyone flies into Seattle and makes the two-and-a-half-hour trek southeast where, in between selecting hops, they fill the local bars and eateries.
But there's another route, via Portland, that allows brewers to expand their hop selection while staying in a vibrant beer-centric city that delivers a unique experience different from Yakima.
The New Route To Hop Selection
While selection is an opportunity for brewers to assess the freshly harvested hops that will go into their future beers, there's also an undeniable social element to it. Harvest is a chance to connect with growers, peers, and suppliers over a beer and get a pulse on trends and topics making waves in this ever-changing industry.
With a great view of Washington's second-highest peak, Mount Adams, Yakima offers the kind of wide open spaces that provide a refreshing reprieve from the nonstop chaos that defines the days of many brewers. As the beer industry converges on the region, there's also the opportunity to build camaraderie, forge relationships, and let loose with like-minded people.
It's informative and fun. It's also insulated, with the entire experience limited to Yakima alone.
Like many creative professionals, brewers feed off of inspiration. It's great to chat with other brewing professionals, but one look at the typical tap list shows that brewers draw inspiration from diverse and varied sources – from music and food to art, travel, and nature.
Hitting hop harvest via Portland expands on the experience. By using Portland as home base, brewers can easily attend hop selection in Washington and Oregon without adding extra travel.
The traditional hop harvest trip begins in Seattle and is followed by a two-and-a-half-hour drive to Yakima, where you stay until it's time to retrace your steps and fly home. But there's an alternative. If you fly into Portland, the drive to Yakima extends by 30 minutes, except your trip can now include:
Staying in Portland and taking in all the city has to offer – from beer, coffee, and dining to music, art, and nature.
Visiting

Oregon's Willamette Valley

and Crosby Hops (a mere 40 minutes from Portland), as well as other growers and suppliers such as Indie Hops, B&D, and Goschie Farms.
Visiting Yakima with about the same length trip you'd make from Seattle.
Embarking on a variety of incredible excursions. Our favorite pit stop? pFriem Family Brewers in Hood River that are just about halfway in between.

Above: TopWire Hop Project Below: Hop yards at Crosby Hop Farm

The Perfect Portland Hop Harvest Itinerary
The itinerary for the perfect Pacific Northwest hop harvest trip looks like this:
>> Fly into PDX
>> Experience Portland
>> Journey south to the nearby Willamette Valley – home to Oregon's hop-growing region
>> Crosby Hops is located conveniently just off of the highway in Woodburn, Oregon
>> Return to Portland to explore some more
>> Hit up Hood River, Oregon en route to Yakima, Washington
>> Connect with Yakima hop growers
>> Return to Portland for a final night of fun
>> Fly home out of PDX
That's just a barebones outline. Depending on your interest, each stop offers innumerable ways to pass the time. To help you make the most of your trip, here are some suggestions for things to do on each leg of the trip.
Portland
Portland is the focal point of this itinerary, and for good reason. It's a bustling city bursting with energy and things to do. For brewers that want to explore the beer and food scene, this is one of the best in the country. For those that want to go beyond beer, there's plenty more to be had in PDX. Here are a handful of recommendations.
Breweries – Call it market research or continuing education, but you need to check out the amazing things going on in the Portland beer scene, and these breweries are a great place to start.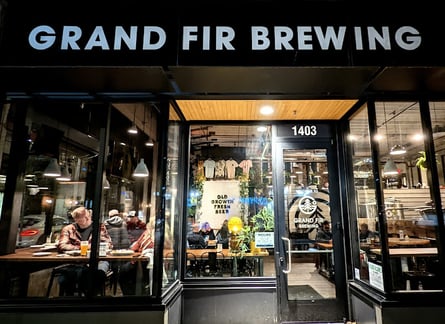 Above:

Grand Fir Brewing
Beer Bars and Bottle Shops – Whether you want to grab beers to enjoy in your hotel or to take home with you, these shops offer impressive curated selections.
Food – Portland boasts a creative and diverse culinary scene that will leave you with some tough decisions come mealtime. Here are some casual dining suggestions to consider between beer tastings.
Coffee – Most brewers drink nearly as much coffee as beer. It just so happens that Portland is pretty damn good at roasting and brewing coffee, too. Check out these roasters to get your fix and power through the day.
Other Things To Do
In addition to a vibrant food and beverage scene, Portland is bursting with creative energy and natural wonder. For those that want to break up the eating and drinking with some intellectual stimulation and physical activity, here are some recommendations.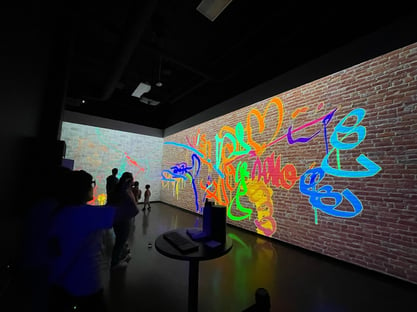 Above:

Electronic Graffiti at Hopscotch
Go Hiking – Hit the gorge (even in the rain – it's beautiful). It's about 45 minutes east of the city and packed full of gorgeous views, waterfalls, and trails. It's also on the way to Hood River.
Drive the Coast – Astoria is a must-visit, and it's home to Fort George Brewery and Buoy Beer, both of which are notable stops.
Rent E-Bikes from UBCO – Rip around Rip City on an electric adventure bike. No motorcycle license required!
Japanese Garden – Explore verdant vistas in a tranquil, urban oasis nestled in the hills of Portland's Washington Park.
Powell's Books – This famous bookstore is absolutely HUGE.
OMSI – The Oregon Museum of Science and Industry (OMSI) includes a natural science hall, planetarium, dinosaur fossils, and more.
Oaks Amusement Park – Lighten it up with a little roller skating, mini-golf, and roller coasters.
Hopscotch

– Highly recommended. An artist-driven, immersive experience in a 23,000 sq ft space that is truly unique. Get tickets ASAP as they book up fast!
This is just a taste of what Portland has to offer. See below for a deeper dive into Portland, including what spots to check out in some of the city's notable neighborhoods.
Woodburn, Oregon
Just a 40-minute drive from Portland and nestled in the Willamette Valley, Woodburn is home to Crosby Hops. Flying in via Portland gives you the opportunity to enjoy hop selection with us and with the growers in Yakima.

Willamette Valley Wineries
Known for world-class Pinot Noir and beautiful estate vineyards, Willamette Valley boasts an array of wineries that will satisfy the palate of any wine aficionado. A few of our favorites include:
Sokol Blosser – These B Corp-certified, second-generation winegrowers pursue winemaking excellence through environmentally friendly techniques.
Rex Hill – Perfecting Pinot Noir for over 35 years, Rex Hill produces singular wines that showcase Willamette Valley's distinctive terroir through meticulous attention to detail, commitment to quality, and careful hand-selection at harvest.
Domaine Serene – Just 30 minutes from our farm, this renowned winery offers a picturesque backdrop to enjoy world-class Pinot Noir and Chardonnay, sparkling whites, and more.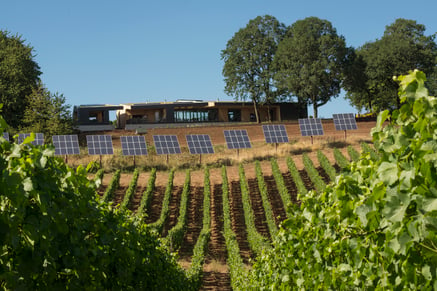 Above: Sokol Blosser Tasting Room
Hood River, Oregon
A benefit of driving from Portland to Yakima is the ability to stop in Hood River along the way. An hour outside of Portland on I-84, Hood River is a great stopping point and home to breweries you'll absolutely want to stop for.
Yakima, Washington
You'll have your hands full doing hop selection with Washington growers, but these spots offer a great option to kick back while you're in Yakima.
A Brewer's Guide to Portland Neighborhoods and Hot Spots
Since you'll find yourself spending a good amount of time in Portland, it's worth doubling back and diving deeper into the city. Here's a breakdown of the city's layout along with some select neighborhoods to explore and their must-visit spots.
Portland is divided up into six quadrants – that's right, six quadrants. Consider that your first tourist tip: Portland keeps it weird, even with math. Here's how locals refer to which part of Portland they're in.
Northwest
North
Northeast
Southeast
South
Southwest
The Willamette river divides the city into East and West sides. And Burnside Street divides the city into North and South. If you have no idea which quadrant you're in, just look at an address. 1234 SE Hawthorne Ave., 6666 NW 52nd Ave., 1111 NE Burnside St. – the direction in front of the street name lets you know where you are.
Here's a quadrant by quadrant breakdown of neighborhoods to check out, along with their notable destinations.
Northwest
-Slabtown/Pearl District-
Breakfast: Besaw's, Stepping Stone Cafe, Moberi (Acai bowls + Smoothies), Good Coffee
Lunch: Brix Tavern, River Pig Saloon, Khao San
Dinner: G-Love, Grassa, Takibi, Please Louise
Drinks: Oven and Shaker, Fireside, Pope House, Paymaster Lounge
Beer: 10 Barrel, Breakside, Deschutes, Von Ebert
Pro Move: Powell's City of Books
North
-Mississippi/Williams-
Breakfast: Grand Central Bakery, Gravy
Lunch: Swift and Union, Spitz
Dinner: Eem, Kayo's Ramen, Lovely's Fifty Fifty, Sardine Head
Drinks: Interurban, Prost!, Saraveza, Tulip Shop, The Alibi Room, Victoria Bar
Beer: Ecliptic, Migration (Williams), StormBreaker
Pro Move: Mississippi Studios, a live music venue and recording studio
-St. Johns-
Beer: Lombard House, Occidental
Northeast
-Alberta Arts District-
Breakfast: Proud Mary Café, Flora Food Co.
Lunch: Alberta Street Pub, Tin Shed, Dolicious
Dinner: Radio Room, Gumba, Bye and Bye
Beer: Great Notion
Southeast
-Hawthorne-
Breakfast: Jam on Hawthorne, Fried Egg I'm in Love
Lunch: Por Que No, Harlow (Get the Black Majik Smoothie)
Dinner: Apizza Scholls, Lardo, Chicken and Guns, Nimblefish
Beer: Away Days Brewing (for the English soccer enthusiasts), Gigantic Brewing
-Division-
Breakfast: Pine State Biscuit
Lunch: Los Gorditos, Reel M In (best fried chicken in Oregon – this is also a dive bar)
Dinner: Bollywood Theater
Beer: Beer Mongers, Apex, Baerlic
-Belmont-
Breakfast: Slappy Cakes
Lunch: Feel Good, Bare Bones
Dinner: Ken's Artisan Pizza, Coquine
Beer: Horse Brass Pub, Belmont Station, Cascade Brewing Barrelhouse
Southwest
-Downtown-
Lunch/Dinner: Pine Street Market
Drinks: The Portland Beer Museum
Pro Move: The Multnomah Whiskey Library is rad. Put your name on the waitlist, then go next door and eat at Shalom Y'all. You might have to put your name on the list THERE and go back to the Whiskey Library and get a cocktail downstairs in The Green Room.
An Experience That Benefits Brewers and Their Brewing
Much in the same way that emerging hop varieties have opened up a new world of beer options, traveling through Portland opens up a novel and unique way to experience hop selection. The ability to attend hop selection with Oregon and Washington growers while enjoying a variety of experiences and building connections in Portland has benefits for brewers and their beer that go well beyond what the typical trip offers.