Crank Up the Aroma and Flavor With CGX™
With hop-forward beers in huge demand among consumers, brewers are using more hops than ever. While that's great for hoppy beer drinkers, intensely hopped beers translate into additional costs, lower yields, and slimmer margins for breweries.
Cost optimization, hop utilization, and yield maximization have become critical to running a healthy business that turns out great-tasting beer. That's why we're excited to introduce Crosby CGX™, a cryogenic process that enables us to offer concentrated lupulin pellets, providing brewers with more access to an in-demand product and exciting varieties not offered before.
Available now for spot purchase and hop contracts, CGX delivers the big hop notes in a concentrated, advanced hop product that helps reduce shipping and storage costs while often increasing yields. Out of the gate, we're offering six CGX varieties, including a few that have never been available as concentrated hops:
Strata® (from cultivar OR91331)
Hop Revolution Nelson Sauvin™
Meridian® (from cultivar W12244)
El Dorado®
Belma®
Nugget
Developed to meet our uncompromising quality standards, CGX enables brewers to access concentrated pellets from a partner that guarantees the quality and support needed in a crowded and competitive beer market.
Push the Boundaries
Like most creatives, brewers love to push boundaries – including hopping the hell out of beers to test the limits of the intensity and magnitude of the aromas and flavors they produce. And the hop industry responded to that trend by breeding new, expressive varieties with huge fruit-forward profiles.
But there's a limit to how much you can hop a beer with T-90 pellets. Every hop addition increases the risk of excessive vegetative matter, astringency, beer loss, and hop creep.
Raise your hand if you haven't had a well-intended DDH NEIPA with too much debris in the glass and too much burn on the backend. Even for brewers with the chops to execute a note-for-note perfect NEIPA, all those hops create beer-absorbing trub that decreases yield.
Packed with approximately twice the potency as T-90s, CGX delivers the intense profiles you want without the drawbacks typically associated with intense hopping. As a result, brewers realize a host of meaningful benefits.
The Benefits of CGX
While better beer may be the ultimate benefit, there are a number of ways that CGX positively impacts your brewery, business, and the planet.
Optimal Aroma and Flavor
Created using an advanced cryogenic process that separates lupulin from hop vegetative matter in a -30 to -50F zero oxygen environment, CGX amplifies the notes you want, cranking up those incredible aromas and flavors and elevating them in the mix.
Whether we're harvesting hops or processing them, our goal is to capture the most potent aromas and flavors with as little degradation as possible. Oxygen and temperature are the enemies of that goal, contributing to degradation and loss of expressiveness. CGX helps solve for both variables. Utilizing a low-temperature, nitrogen-rich environment, we're able to keep the hops cold throughout the process while limiting their exposure to oxygen.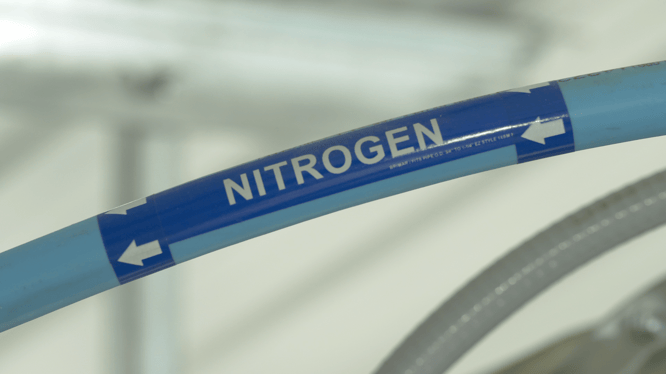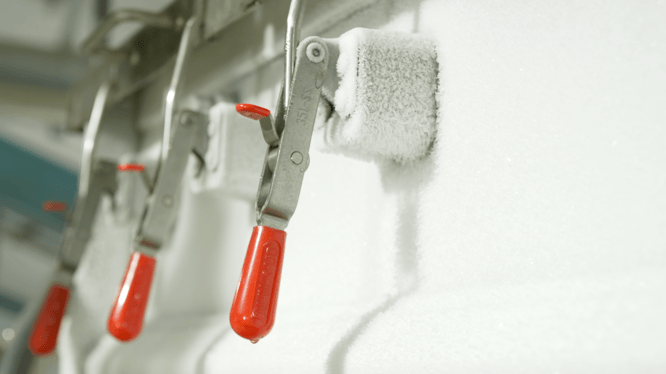 During brewing, you get a concentrated dose of resins and oils that enhance your hop profile with less of the grassiness or vegetal characteristics that can negatively impact flavor, body, and enjoyment. The low-density, high-dispersion CGX pellets also increase exposure to beer, which improves lupulin extraction and ultimately flavor impact.
Increased Access and New Varieties
For brewers currently using concentrated hops, as well as those that would like to start using them, CGX improves access in two key ways.
CGX introduces the only other point of access for sourcing cryogenically processed concentrated hops, expanding availability in the market via a grower and supplier that holds quality above all else.
Perhaps even more exciting, Crosby is offering in-demand varieties previously unavailable as concentrated hops: Strata, Nelson Sauvin, Meridian, and Belma.
Cost Savings
On the surface, concentrated pellets seem like a larger investment than T-90 since they cost more per pound. But CGX actually helps reduce costs and increase revenue.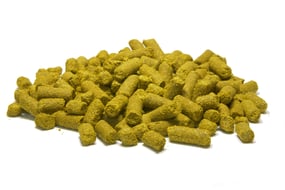 To get the aromas and flavors consumers want, brewers are using increasingly more hops, which not only adds to the cost of each batch but reduces the amount of beer that can be sold per batch.
With T-90s, there's an inverse relationship between hopping rates and yield. As brewers add copious hops throughout the brewing process – whirlpool, fermentation, dry-hopping – it introduces more vegetative matter that absorbs liquid, increasing trub and decreasing yield.
CGX allows you to get the big hop profiles you want without having to use as many hops. In general, CGX can be used at a rate of 40-50% of T-90 pellets. Because they include less vegetative matter, they reduce the amount of trub, increasing yield, the amount of sellable beer, and, ultimately, the revenue generated per batch.
Furthermore, because you need less CGX, you also realize valuable savings on freight and storage costs.
A Complement to Other Crosby Hops
Concentrated pellets are an incredible tool to help brewers brew more effectively and run their businesses more efficiently. But they are not meant to replace T-90 pellets or fresh hops. CGX plays a valuable role in this hop-forward market, but they truly shine when paired with T-90s.
CGX provides big, clean hop notes. But in some ways, those notes are almost a little too clean to stand alone. It's almost as if there's something missing. Despite some negative aspects of vegetative matter, it has an important role in brewing, providing body and mouthfeel that remain important to the beer experience. With the right mix of CGX and T-90s, you can balance hops and body while still optimizing costs, yield, and revenue.
A Little Feedback Is Always a Good Thing
We've worked tirelessly to develop CGX and offer brewers a leading concentrated hop product. If we're being honest, we dig it. CGX rocks and is everything we'd hoped it would be.
But every band always claims that their latest release is the best thing they've done. Maybe it is, maybe it isn't – it's really up to the audience to decide. That's why we sent out some advanced releases of CGX to some amazing brewers and asked them to brew up something special to pour at CBC and give us a no-BS review.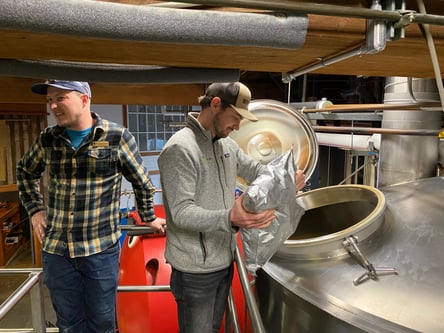 Fort George Brewery's Focus West Coast IPA combined Hop Revolution Nelson CGX, Strata CGX, and Meridian CGX with Strata and Meridian T-90s. "The pellets looked amazing," said Lead Brewer Michal Frankowicz. "Everyone that was there on brew day was really stoked with how they smelled. When opening the bags, it was like a fresh citrus basket."
"I am really excited to see Crosby Grown hops available in concentrated pellets," he added. "I am a huge fan of what they grow and now will have even more variety to play with."
Creature Comforts Beer brewed B-Good, a Cold IPA that layered El Dorado CGX and Strata CGX atop El Dorado, Strata, and Simcoe T-90s.
"Concentrated hop products work well with classic T-90s," said Blake Tyers, Senior Director of Creature Comforts' catalyst division "The T-90 pellet has shaped the classic aroma profile of what we expect in hoppy beers. Concentrated pellets certainly can help amp up some of the notes without the same vegetative load as T-90s, which is awesome, but in my experience, some T-90 pellets are still needed to complete and round out the hop profile."
Brannen Morris, Director of Brewery Operations at Creature Comforts, agrees. "We use concentrated pellets in our beers to layer the flavors from hops," he said. "We believe that the best expression is obtained by using multiple types and intensities of hop products synergistically. Concentrated pellets are a great tool to get the pop of flavor that we are looking for with less vegetal material and a clean expression of that variety's characteristics."
As for his experience brewing with CGX, he says, "CGX is everything I look for in concentrated lupulin pellets. The Strata CGX we used was especially pungent and really popped out of the bag when the team sampled them."
For Blake Tyers, the introduction of CGX is another step in deepening an already close relationship: "Not only is the quality right in line with what we expect from Crosby, we also appreciate that Crosby's values line up with ours and we love working with another B Corp!"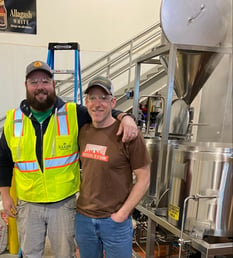 Another fellow B Corp, Allagash Brewing Company, shared that sentiment. "We love working with Crosby, because of the attention to quality and the fantastic people," said Brewmaster Jason Perkins. "As a B Corp ourselves, we also love that Crosby is a B Corp."
The Allagash crew used El Dorado CGX, Nugget CGX, Azacca®, and Cashmere in its Twin Cities IPA, a name that pays homage to CBC 2022's host city. "The CGX pellets we used all had bright, clean aromas that highlight the featured aromas of each variety while limiting the background vegetative properties," Jason reported. "I also really liked how soft the pellets were, making for easy incorporation into the beer during dry-hopping."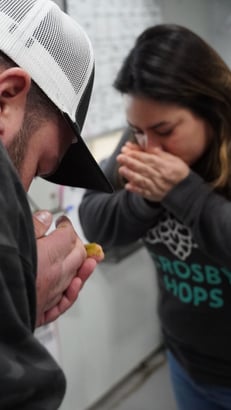 For its Crosby Pro-Am West Coast Pale Ale, HenHouse Brewing tapped Belma CGX with Strata, Centennial, and Belma T-90s. Nick Moreira, Brewmaster at Henhouse, loves working with concentrated hops for a pretty cut and dry reason: "You can get twice the hop aroma and flavor with half the amount of product."
With the release of CGX, he's happy to have more access to a high-quality concentrated hops: "I am excited to see Crosby expand into new products because all of their current products are high quality and I know it will live up to the same high standards."
As with concentrated hops, sometimes less is more with feedback. For its Duality DDH NEDIPA, Masthead Brewing paired Strata CGX with Riwaka™ and Strata T-90s. "Duality with Strata and Riwaka is possibly the most aromatic beer we've ever made," said Founder and Head Brewer Mike Pelechaty.
Get yourself some and tell us what you think.
CGX is now available in limited quantities for spot purchase and won't last long. We're taking contract orders now for crop year 2022.