2022 National Hop Report: Key Takeaways
In December, the United States Department of Agriculture (USDA) released its 2022 National Hop Report, providing the beer industry with an objective view of last year's harvest in Idaho, Oregon, and Washington. It offers valuable data that sheds light on the current health of the U.S. hop industry while giving brewers a view into possible availability issues for specific varieties.
In summarizing the report, we've pulled out its key highlights, layering in what we saw on the farm to give context to the numbers and offer a clearer picture of harvest 2022.
2022 Hop Production Was Down 12% From Last Year
The USDA report revealed that while there continues to be strong production within the U.S. hop industry following last year's record-breaking harvest, it did fall off in 2022.
Production for Idaho, Oregon, and Washington totaled 101 million pounds, down 12% from the 2021 crop of 116 million pounds.
Idaho, Oregon, and Washington harvested a combined 59,785 acres in 2022, down 2% from a record high 60,872 acres in 2021.
Harvested acreage increased in Oregon but decreased in Idaho and Washington.
At 1,694 pounds per acre, U.S. hop yield is down 206 pounds from a year ago.
2018-2022 Hop Area Harvested and Production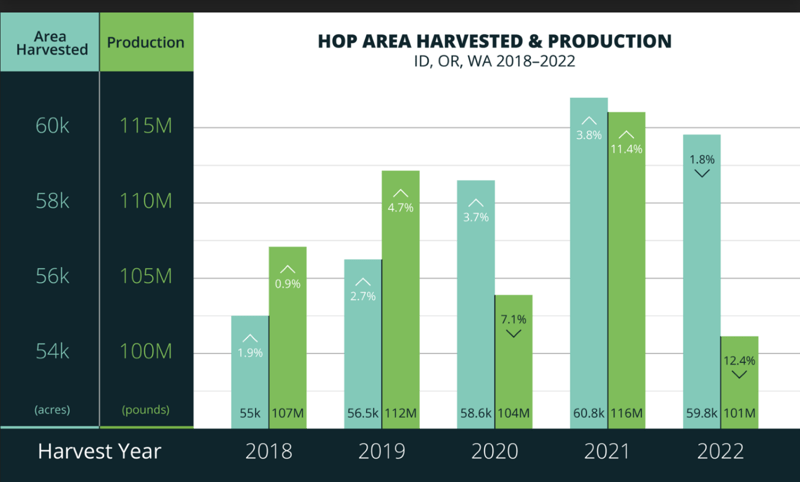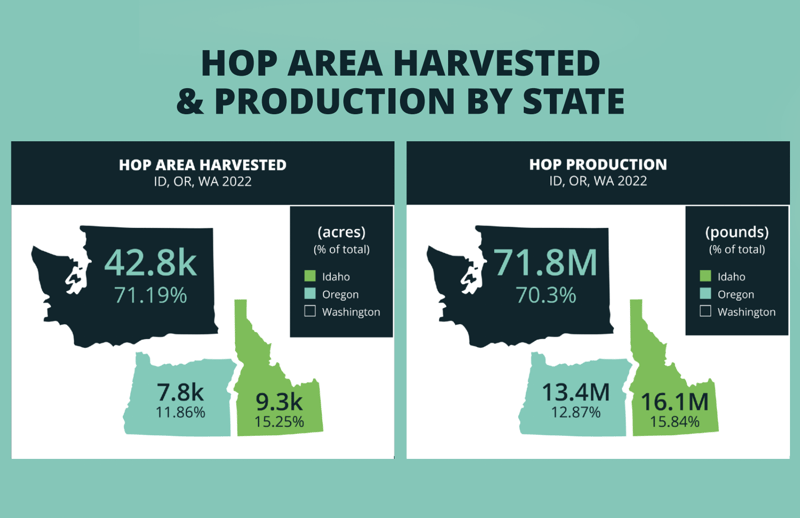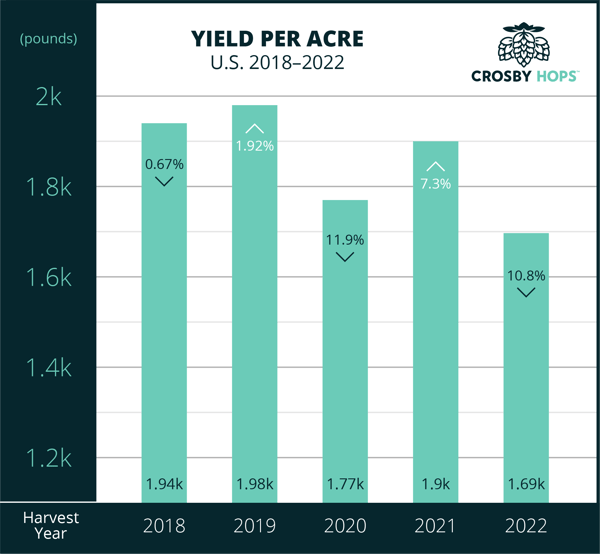 Cool and Wet Spring Conditions Set the Tone
The drop in hop production outlined in the National Hop Report naturally leads to questions of why? With harvested acreage down just 2% but production down 12%, yield would appear to be the culprit. That's born out in the data, with yields dropping 206 pounds per acre (or approximately one bale) from 2021 (10.8%).
Every growing season presents its own challenges that can influence crop yield and quality. In recent years, those challenges have revolved around heat and drought. This year featured the opposing storyline. A cool wet spring delayed growth and cone development.
As summer temperatures rebounded, some varieties adapted, growing later into the season than normal and blooming later, which helped with bine growth and plant development. In some cases, however, this late growth produced a smaller cone size, which appears to have correlated with below-average yields expectation.
Here's how the conditions influenced this year's harvest.
Weather
Here in Oregon, a cool and wet spring spawned record-breaking rainfall and above-average snowpack in the Cascade mountains. It was a far cry from recent springs, which featured warmer and dryer weather that cast concerns about the potential impact on crop health.
The cooler temperatures extended into mid-June, causing a lag in the hops' typical growth and bine development. Fortunately, the crop rebounded during the summer months as rising temperatures made their way into the region in July.
In good news, no wind events adversely impacted crop year 2022.
Water
Thanks to heavier-than-normal rainfall and heavy snowpack, there was ample water in Oregon. While wet weather can cause challenges on a working farm, one upside is that it allowed us to hold off on irrigating until later than normal.
In Washington and Idaho, water was also good. Although a dry early spring initially raised eyebrows in Idaho, heavy rains in May helped bring levels back up to normal.
Workers
Although many industries have struggled with labor shortages, it did not impact harvest 2022. Between the H-2A program and the local labor force, there were enough workers to bring in this year's hop crop on time and within each variety's designated pick windows.
Pest Management
The wet weather pattern that dominated the first part of the growing season resulted in us maintaining tight intervals for disease control in late spring and into early summer thanks to high downy mildew pressure.
But as it often does, nature performed something of a balancing act. Due to the summer months being cooler overall, we saw very little mite activity.
Wildfires
After consecutive seasons rife with wildfire threats due to extreme heat, and – in the case of 2020 – some varieties impacted by smoke taint, 2022 was a breath of fresh air. No noteworthy smoke impacted this year's crop.
Varieties: What's Up and What's Down
The hop report provides valuable insight into which varieties should be plentiful and which may have limited availability. The following buckets are based on cumulative production across Washington, Oregon, and Idaho. It's important to note that while one growing region may have seen notable increases in a variety, they could have been offset by decreases in other regions.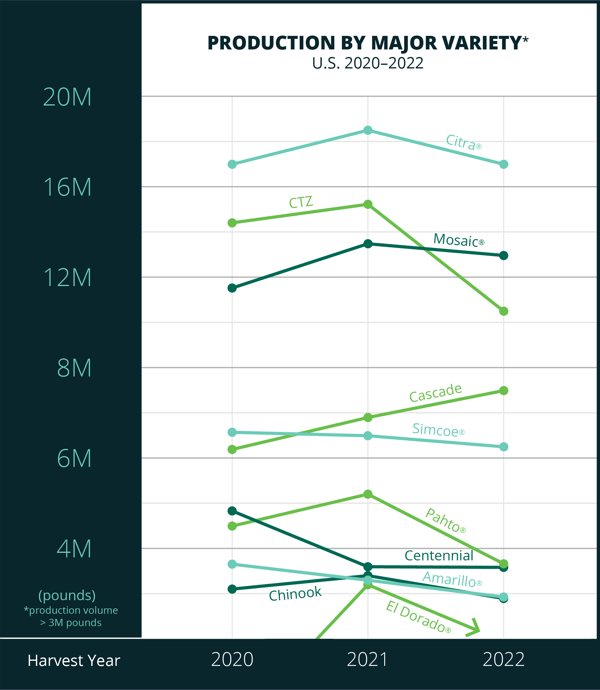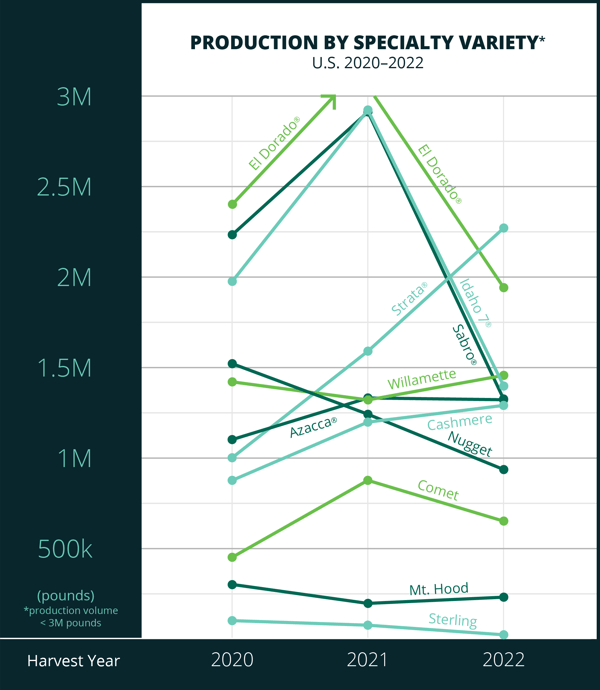 Increase
The following varieties saw healthy increases over harvest 2021:
Strata® +45.28%
Cascade
Centennial
Crystal
Citra®
Cashmere
Simcoe®
Mt. Hood
Decrease
These varieties saw a notable drop in production compared to 2021:
Amarillo® -37.81%
Chinook
Comet
El Dorado®
Sabro®
Sterling
Idaho 7®
Golding
About the Same
One Year Is Not a Trend
Ultimately, numbers are just that. Up or down, data needs to be put into proper context. Year-over-year changes are valuable, but they only offer a snapshot when you really need a longer view. While 2022 hop production fell 12% from last year, it's important to note that 2021 was a record-setting harvest. Taking a larger view, 2022 is in line with production from 2020, which was a strong year.
What's the Future?
In the months ahead, brewers will share their thoughts on this year's hop crop, and that information will shape growers' future plans. However, even as we await feedback on the 2022 crop, we're already seeing trends that may affect 2023.
Acreage in the Pacific Northwest will likely decrease by 10-15% for crop 2023, driven largely by reductions in Citra® and Mosaic®.
Acreage for some public varieties will likely increase in crop 2023.
Brewers facing margin pressure will likely continue to embrace advanced hop products.
Cost pressures will continue to play a role in 2023:

Input costs continue to rise, although the rate of increase is slowing.
Labor costs will likely continue to increase by 10% to 20%.
In 2022, Oregon followed Washington and introduced overtime laws for agricultural workers, which will further add to labor costs.
While challenges such as shortfalls and surpluses of specific varieties may impact breweries, great beer will still be made. At their core brewers are resourceful and creative – give them water, yeast, hops, and malt, and they'll find a way to brew something special.