Amidst Adversity, US Hop Production Hits Record High In 2021
The United States Department of Agriculture (USDA) recently released its 2021 National Hop Report, which provides unbiased data around planting and production from last year's harvest in Idaho, Oregon, and Washington. This information not only offers a glimpse at the health of the U.S. hop industry but also provides brewers with early insights into the availability of specific varieties for the upcoming brew year.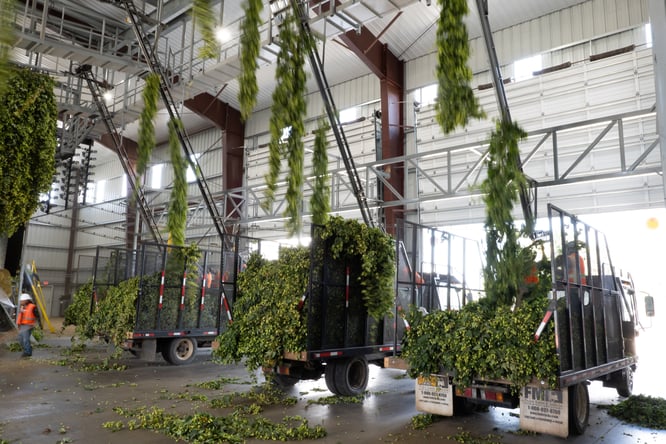 Here, we've pulled out highlights from the report and combined them with some of what we saw on the ground and heard from other growers across the Pacific Northwest to provide some context to the data and paint a more complete picture of what happened during harvest 2021 and what to expect in the 2022 brew year.
2021 Was a Record Year
The USDA report revealed that there continues to be strong growth within the U.S. hop industry: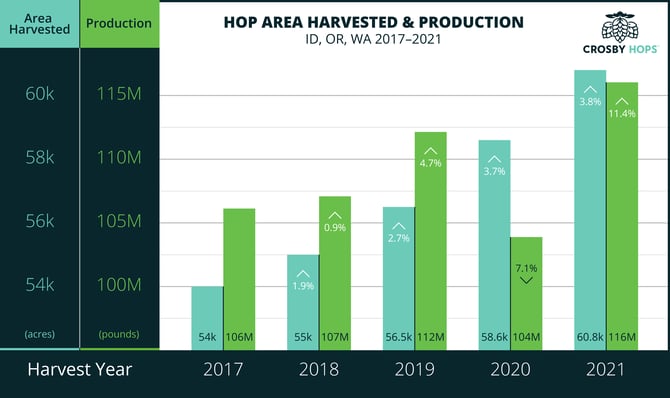 Idaho, Oregon, and Washington combined for a record 60,872 acres harvested, up 4% from 2020.
Hop production for Idaho, Oregon, and Washington was 116 million pounds, an 11% increase from 2020.
2021 yields approached historical averages up from a challenging 2020 growing season.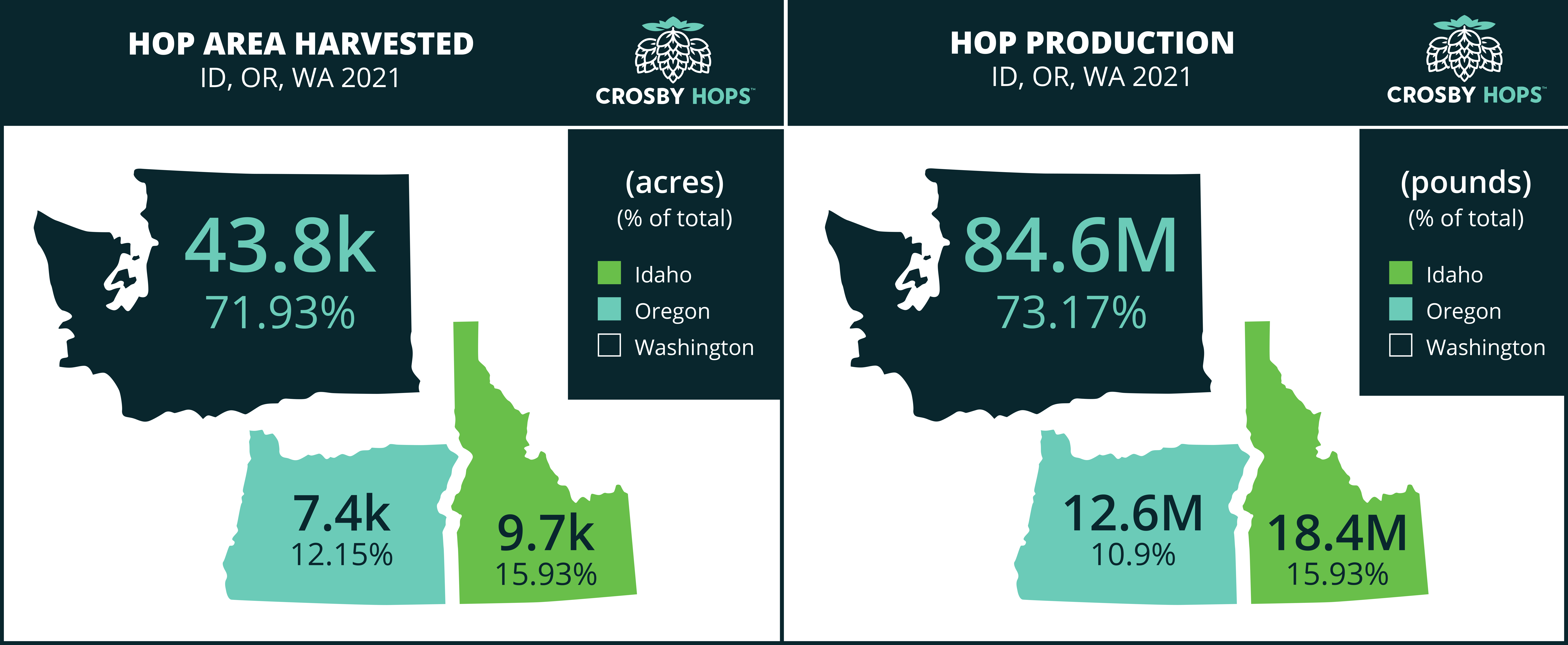 A Strong Crop Despite Challenging Conditions
The numbers in the National Hop Report are impressive, and something of a relief given the challenges the extended heatwaves the Pacific Northwest experienced over the summer, which brought an increased risk of drought and wildfires. Here are how the conditions influenced this year's harvest and the yields reported by the USDA.
Weather
June saw historic heat across the Pacific Northwest, with Seattle and Portland hitting record-setting temperatures of 108°F and 116°F respectively. Needless to say, those aren't ideal hop growing conditions and there were real concerns about how it would impact the 2021 crop. The plants went through extreme stress, with some experiencing wilting. In some cases, bines actually died.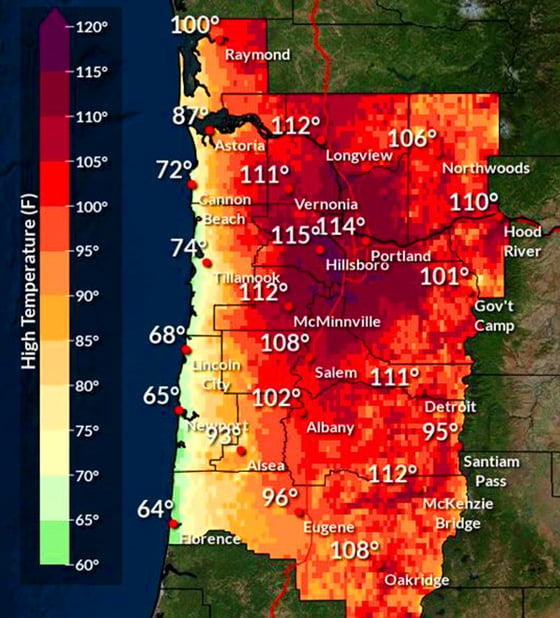 Thankfully, the yield impact was minimal, varying by variety and in some cases by field. Younger plantings proved more sensitive to heat than mature plantings. In Oregon, north-facing hop yards saw more damage due to strong north winds during the heatwave.
Although the impact from the heat wasn't as bad as feared, the timing proved fortunate since it happened pre-bloom. Had the heatwave struck just two weeks later during bloom, yields would have been drastically impacted.
Water
There was ample water in Washington and Oregon. Toward the end of the season, Idaho was seeing shortages and some growers were facing curtailment, but it didn't impact the crop. Fortunately, as we look ahead to the 2022 crop, the snowpack is very good in the Pacific Northwest, and rainfall has been plentiful.
Workers
Despite global labor shortages, there was sufficient labor to bring in the 2021 hop crop both through the H-2A program and local labor forces. However, there was a dramatic increase in wages for many growers, which added to costs.
Wildfires
The 2020 crop experienced notable smoke taint from wildfires. While extended heat poses an increased risk of wildfires, smoke was not a significant factor in the overall 2021 crop. Oregon and Idaho experienced no issues with smoke taint. In Washington, sporadic smoke impacted some growers, but only in some areas. For those affected, the smoke delayed maturity and made it more challenging for growers to determine the ideal pick window for many varieties.
This is another reminder of the importance of working with a supplier that emphasizes supply chain diversity. By sourcing hops from across growing regions, you can reduce the risk of being adversely impacted should an extreme event hit one area.
Varieties To Spotlight: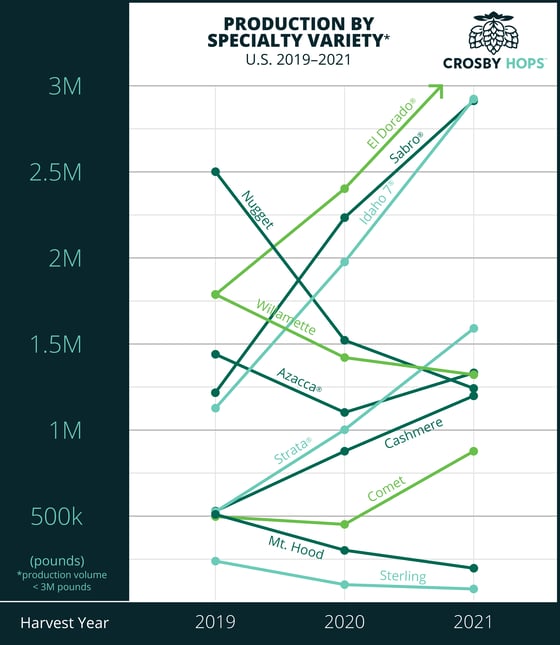 Strata® – The star of the show from
once again experienced strong growth in 2021. Production was up 57% and acreage is growing quickly and sustainably, signaling that it's here to stay for the long term.
Amarillo® – Brewers should expect the spot supply of PNW Amarillo to be tight in the coming year. Production was down 10% due to a delay in Amarillo contracts leading up to stringing in 2021. This delay in communication around demand requirements directly led to less acreage being strung, which in turn will mean minimal spot inventory for 2022.
Cascade – Both harvested acreage and production rose 10% in 2021. It feels like Cascade is reaching a balance between supply and demand as surpluses of previous crop year inventory have also been largely depleted.
Centennial – For breweries that rely on Centennial, this is one to keep a close eye on. It saw a dramatic 25% drop in production from 2020 and could be nearing a short position for the 2022 spot season. The availability caution light seems to be on both for spots and futures.
Chinook – Overall, Chinook saw good outcomes with a 10% increase in production. While acreage was down, yields were good. Oregon averaged 9 bales/acre, Idaho averaged 10.5 bales/acre, and Washington averaged 9.25 bales/acre.
Sterling – Acreage remained stable (albeit low), but production was down 23% and the total crop was just 77,000 pounds. Only a few Sterling growers are in the U.S. It's a similar story for varieties like U.S. Fuggle, Golding, Mt. Hood, Crystal, and Liberty. If you like these hops and use them, contract them or they may not be available in the future.
Crystal – Crystal continued to see a decline in production. While over 1.2 million pounds of Crystal were produced in 2018, only 288,000 pounds were produced in 2021.
Mt. Hood – Production dropped by 37% on Mt. Hood, from 301,000 pounds in 2020 to just under 200,000 pounds in 2021.
Cashmere – This exciting new public variety experienced hockey-stick growth, with production rising by 36% over last year. That increase might reflect its broad use and adoption by brewers across the country. More variability was observed in this year's crop due to expanded planting and the tight pick window for ensuring Cashmere's optimum aroma profile.
El Dorado®– Production was up by 31%, driven by increased acreage in Idaho and Washington and improved yields in both regions.
Idaho 7® – Production was up an eye-popping 50%, driven by strong yields that averaged 14 bales/acre. By region, that broke down to 12 bales/acre in Idaho, 8 bales/acre in Oregon, and 16 bales/acre in Washington.
Citra® – Continuing its ongoing growth, Citra increased from 17 million pounds in 2020 to 18.5 million pounds in 2021, an 8% rise in production. Growth was primarily driven by a 9% increase in acreage, as yield was actually slightly down in all three states in 2021 due to the summer heat event in PNW.
Mosaic® – Another variety that has experienced several years of growth, Mosaic production was up 19% in 2021. The increase from 2020 is due to new acreage in Oregon, Idaho, and Washington.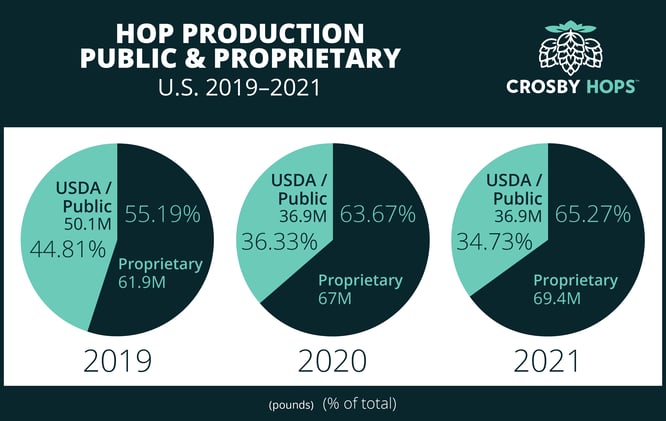 While their pace has slowed, proprietary varieties continue to grab more production share of the US hop industry. Will proprietary varieties continue to erode public variety market share? Or are proprietary varieties maturing to a point where it's a battle for share within the proprietary segment? How does a variety win that battle?
Brewer Feedback on the 2021 Hop Crop
In some regards, the National Hop Report officially wraps up the 2021 harvest. However, brewers and consumers always have the last word on quality. While most brewers haven't yet started brewing with their 2021 hops, those that attended selection in the Pacific Northwest had their own unique harvest takeaways.
"My first hop selection in 2021 is one I will never forget. All of the farms and suppliers showed a great amount of gratitude and accommodation to all of the brewers that came out to the PNW for harvest. I personally was a fan of many of the farm's Comet, Centennial, and El Dorado hops from the 2021 harvest. My #1 varietal that I got to sniff out there was Strata. Tons of red berry, tropical fruit, and dank notes in pretty much every farm's samples I sampled."
– Alex Robinson, Two Roads Brewing Company
"Overall, I was very happy with the quality of the varieties we looked at this year. I thought Simcoe®, Citra, and Azacca in particular were some of the best we have looked at. Varieties such as Chinook, Mosaic, and Amarillo were above average in my opinion for quality, with Amarillo being more consistent across farms and lots than I have seen historically. We did notice a few lots that were either smoke-tainted or off-brand, but nothing out more than what we would normally see. In general, I thought it was a very good year for the key varieties we use."
– Joe Mohrfeld, Pinthouse Brewing
"We had some wonderful lots this year and a few less than desirable, all pretty much equating to the volatility of how our environment plays a huge effect on raw materials. As brewers, we know and understand the need to be nimble and adapt to the trends the market wants while adhering to the products amazing farmers can produce."
– Brittany Frey, MadTree Brewing
What's the Future?
Time will tell how the 2021 harvest impacts the brew year 2022. In the months to come, brewers will provide their thoughts, which growers will incorporate into their future plans. But even as we await feedback on the 2021 crop, here's what we think may impact hops in 2022 and beyond.
Neomexicanus genetics are becoming more interesting in hop breeding due to their heat tolerance and ability to thrive in extreme conditions.
There is research in the pipeline on how to effectively use hops with smoke taint and still retain beer flavor and integrity. The goal is to develop lab testing to objectively detect and measure smoke taint in hops and provide a threshold for what is acceptable without adversely impacting beer. Brewers, dealers, and growers will need to continue to collaborate to address this challenging issue.
Brewers will continue to delay communicating their contract requirements due to uncertainty in the marketplace which will increase pressure on the hop supply chain and inevitably create individual varietal supply and demand imbalances regardless of the macro hop market.
Water conservation efforts will continue to accelerate in the US hop industry.
There are indications of cost pressures that will impact 2022:

Current estimates show fertilizer is expected to increase in cost by 100% due to global supply chain issues.
Labor costs will likely increase by 10% to 20%.
In 2021, Washington introduced overtime laws for agricultural workers and Oregon is likely to adopt similar measures in 2022, which will further increase labor costs.
Despite the challenges presented by 2021 – from an ongoing pandemic to historic heat and global supply chain issues – the growing season was a success, as evidenced by the record-breaking numbers reported by the USDA. With any luck, that success will translate into a successful, productive, and prosperous brew year for the beer industry.