The Benefits of Being – and Working With – a B Corp
Increasingly, consumers are showing a preference for businesses that are good stewards of the planet and its people. And more companies are adopting business models that integrate missions that align with this desire for brands to be more purpose driven.
As a result, terms such as sustainability, social responsibility, and community are becoming ever-present in the marketplace. But words and good intentions only go so far.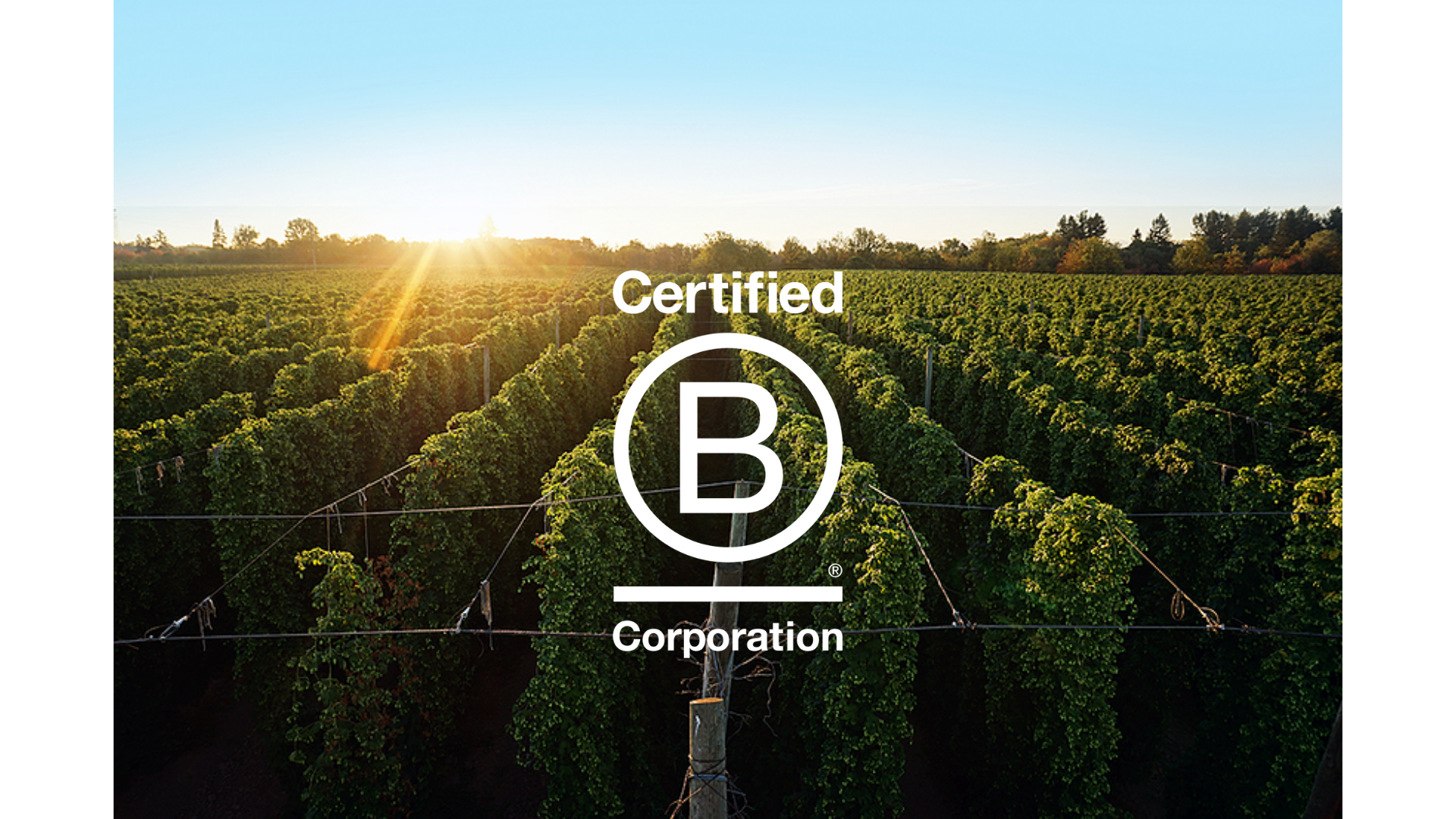 The truth is that any business can claim to be sustainable or socially responsible. However, without validation, they're just words. Certification gives them meaning. It provides visibility into the things you're doing and the impact you're having while lending credibility to your claims and building trust with customers.
If you look at our homepage, you'll see the Certified B Corporation® logo prominently displayed near the top, before any of the products or solutions that generate revenue. It's a badge of honor, one of our crowning achievements, but more importantly, it drives every aspect of our business – from how we produce hops to the ways in which we engage with our employees, customers, and community.
Most companies put their bottom line first. We're no different. It's just that for us and other B Corporations it's a triple bottom line: people, planet, and profit.
It's an approach that adds value for our customers. There are many like-minded breweries for which this philosophy aligns with their values. For others, it's an opportunity to advance their own sustainability goals by working with a certified partner. And for those breweries that are primarily concerned with quality, the rigorousness of certification offers insight into our commitment to cultivating exceptional hops and relationships.
We applaud every business that's trying to do its small part to do good in the world. However, as a B Corporation, we also know that certification increases your ability to be the change you want to see, and we'd like more businesses within the beer community to join our ranks.
"Many businesses are doing great things around the world," says Blake Crosby, President and CEO of Crosby Hops. "But B Corp provides a robust accountability framework like no other that we can benchmark our progress and rally the team around."
We were fortunate to have had people who educated us about and guided us toward B Corp Certification. Here, we'll pass on what we know and share parts of our journey as a way of encouraging others to pursue certification or partnerships with B Corporations.
What Is a Certified B Corporation?
Certified B Corporations are businesses that commit to balancing purpose and profit as a means to being a force for good in the world. That commitment goes beyond good intentions, separating B Corporations from other mission-driven businesses. B Corp certification is a demanding process that includes:
Validation

: Businesses are certified via the B Impact Assessment, which evaluates how their operations and business models impact workers, the community, the environment, and customers. It looks at everything from the materials used and the supply chain to charitable giving and employee benefits.
Accountability: B Corporations update their governing articles so that they are required to consider the impact of their decisions on their workers, customers, suppliers, community, and environment. This creates a long-term commitment that protects the mission through capital raises and leadership changes and offers flexibility when evaluating a sale and liquidity options.

Transparency

: Visibility is not only critical to earning public trust but to showing and supporting the positive impact each company is making. To that end, every B Corporation's B Impact Report, including its score, is made public on www.bcorporation.net.
Unlike other certifications, B Corp Certification doesn't just evaluate a product, process, or service – it measures the company's entire social and environmental impact. It is the only certification program of its kind and uses a rigorous assessment framework that lends credibility to the companies that achieve it and gives confidence to the growing number of customers that want to buy from purpose-driven brands.

Why Crosby Hops Chose To Pursue B Certification
In 2016, Crosby Hops became the first supplier in the beer industry to be B Corp certified. It's a testament to the hard work and dedication of our team, but it's also a testament to the certification standards. It's an incredibly high bar but also a worthwhile investment.
When we set out on this journey in 2014, we were like many companies: We knew we wanted Crosby Hops to reflect the values we're passionate about, but we didn't know how that translated into a business model.
"We were trying to find our purpose, but we still hadn't quite identified it," according to Blake Crosby. "We had already achieved Salmon-Safe certification and knew we wanted to establish a strategy that revolved around a strong purpose and core values, but we didn't know what that looked like."
Ideas are great and ideals are admirable, and giving voice to them is part of making them a reality. But without a strategy to implement them, they're just words, easy to say but impossible to back up. We had big ideas and inspired thoughts but also a lot of questions and little direction.
B Corp Certification provided the framework and guidance we needed, helping us to identify what we cared about and how to deliver on our good intentions in a way that provided credibility and kept us accountable.
"We first became aware of B Corporation through New Belgium and Hopworks and knew it was something unique and special," says Blake Crosby.
However, he credits Staci Wallace, then Crosby Hops' Senior Manager of Quality and Sustainability, with advocating for B Corp Certification and being the driving force behind seeing the idea to fruition. "B Corp Certification is a lot of work, and she pushed hard and created urgency around it," he says. "I'm forever grateful to her."
The evaluation process is rigorous, but it also allows for flexibility. To become a Certified B Corporation, businesses must achieve a minimum score of 80 on their B Impact Assessment (the median score of companies that complete the assessment is 50.9). However, there are many ways to get points – they don't have to come equally from the core areas of governance, community, environment, workers, and customers.
Because it's not rigid in its formula, B Corp Certification enables companies to identify what matters to them and lean into it. While some companies address each area equally, others choose to place more focus on one or two. For our certification, Crosby Hops chose to lean into sustainability and community.
Another Way To Look at Your Business
Going through any certification process will shine a light on things you hadn't previously considered or reveal them to you in a new way. For the first time, we dug into metrics that weren't just financial and were forced to take a hard look at our people data – demographics, wages, and benefits.
According to Blake Crosby, it was a transformative shift. "It started us down a path of focusing more on soft skills, not just analytics or the Xs and Os of doing business," he says. "There's more to life than just numbers and money, and this process sets us up to do an annual audit of our soft skills, just as we do with our finances."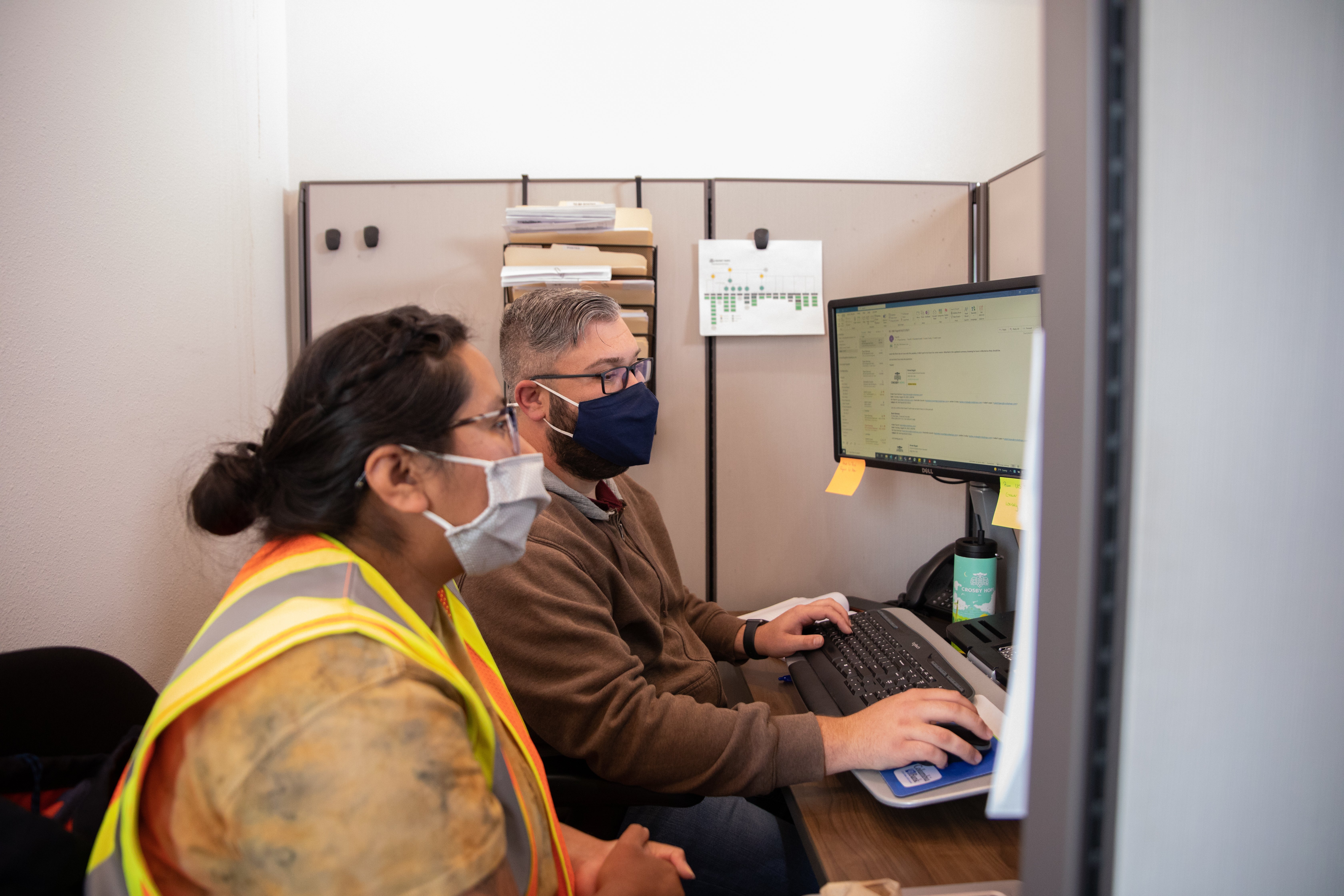 These annual audits create accountability around important issues related to the culture within our community. They've pushed us to start having open conversations about everything from diversity, inclusivity, and gender equality to affordable health care, parental leave, and fair pay.
Happy and fulfilled employees are better employees and coworkers who perform better and provide a better customer experience. However, people aren't always comfortable voicing opinions about what could make them happier or more fulfilled. B Corp Certification has forced us to look at these issues and normalize conversations around them so that everyone feels empowered to speak up and ask questions.
On the surface, this approach may sound progressive, especially compared to the take-your-pay-and-be-happy mentality thrust upon workers of the past. But Blake Crosby doesn't see it that way, choosing to view it as the modern standard. "Really, this is just how you run a good business today," he says.
Another Way for Your Business To Be Seen
Yes, certification forces you to see your business in another light, but it also allows your business to be viewed differently in the marketplace.
Brand Differentiation
Increasingly, consumers are showing a preference for brands that show they care about people and the planet. So many purchases have been commoditized and, often, the difference between competitor products and quality isn't enough to be a driving factor.
So why should a consumer choose one brand over another? Purpose, values, vision, and mission have become integral to buying decisions. Adding purpose to your brand adds value to your products – people want to feel that they're helping the causes they support and that they're backing up their own values. The easiest way to do that is through their purchases.
In fact, a recent study found that 85% of people have shifted their purchasing to be more sustainable and that 34% are willing to pay more for sustainable products or services.
It's becoming clear that sustainability and social responsibility offer business benefits, including being a differentiator that gives you an edge over the competition. And the robust nature of B Corp Certification stands apart in the marketplace. It's a rarefied group – there are only 4,400 B Corporations in the world.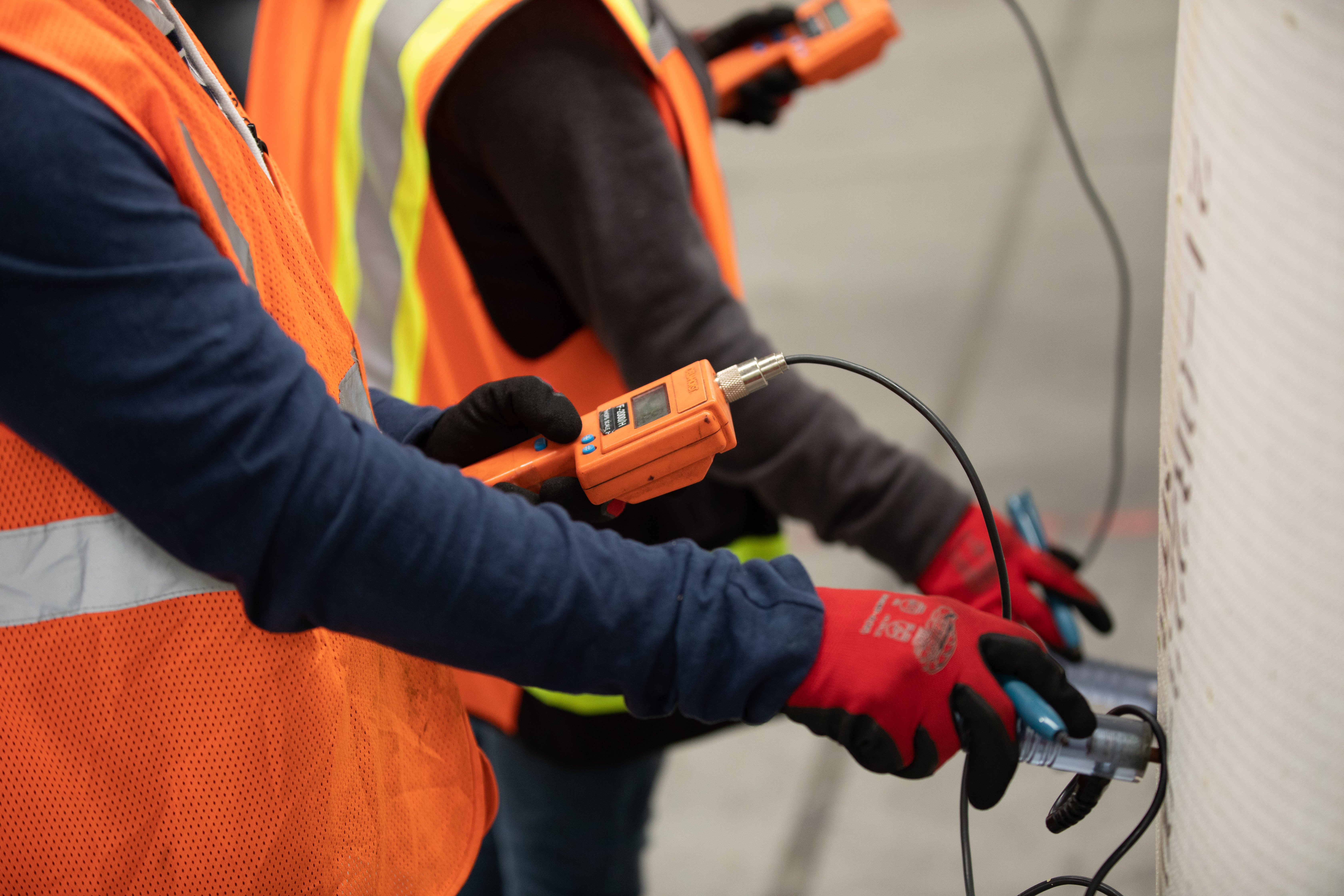 Recruitment and Retention
Those same individuals who are willing to back their beliefs through purchases represent many of the same people you're trying to recruit and retain as workers. Millennials and Gen Z in particular – a sizable demographic in the craft beer industry – have shown a desire to work for purpose-driven companies that support sustainability and social responsibility while making charitable giving and service core to their business.
A 2021 IBM Institute for Business Value (IBV) survey found that:
71% of employees and job seekers find environmentally sustainable companies to be more appealing
More than two-thirds of respondents were more likely to apply for and accept jobs with environmentally and socially responsible organizations
Nearly half of the people surveyed would accept a lower salary to work for a socially responsible organization
It's a trend that bears out in our experience. When we interview candidates, sustainability is the one topic that always comes up. According to Blake Crosby, "Nearly every candidate we've recruited in the last several years has cited a commitment to sustainability, and especially B Corp because of its credibility, as a major reason for signing on at Crosby."
In addition to being a competitive advantage in the marketplace, B Corp status offers an edge in the competition to hire and retain talent. But certification is more than just a badge. It impacts the state of your work environment in a way that job candidates and employees can be confident that the other factors that matter to them – fair pay, affordable benefits, an equitable workplace – are likely to be in place.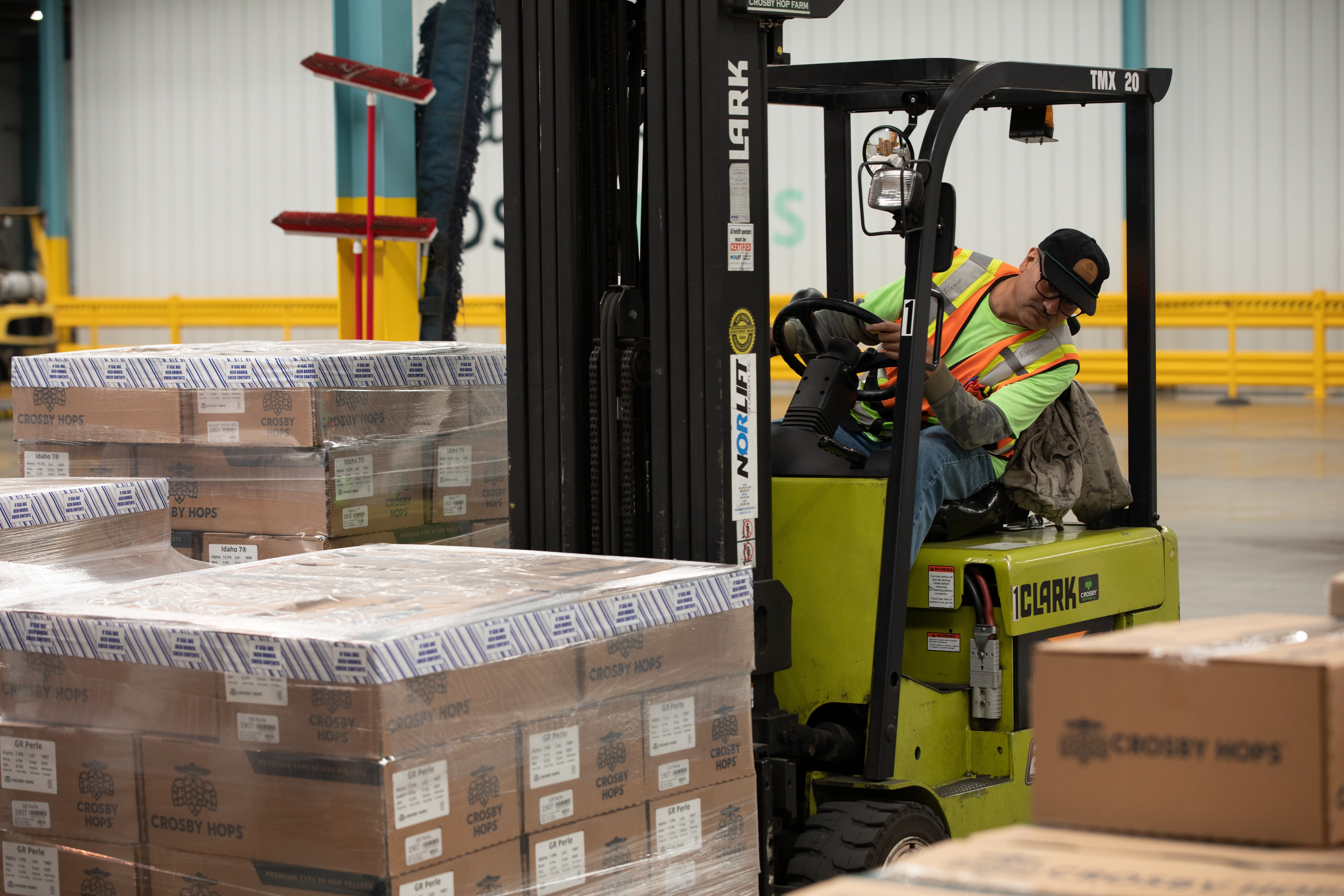 A Lifetime Journey
As mentioned, when Crosby Hops started this journey, we knew we wanted to have an impact but were searching for a purpose. Today, Crosby Hops has a clearly defined vision, mission, and values that guide every aspect of our business.
Our Vision: In our world, people and nature thrive.
Our Mission: We grow, source, and process world-class hops to create remarkable shared experiences.
Our Values: Quality, sustainability, innovation, community
They're the culmination of our experiences over the last decade and have been greatly influenced by our ongoing B Corp journey.
That continuous journey is a hallmark of all B Corporations. Certification isn't an end point, it's the start of a lifelong commitment. To maintain certification, businesses must update their B Impact Assessment and verify their score every three years, and ongoing improvement is essential to the process.
For most B Corps, recertification isn't a check-the-boxes task. Instead, it's often viewed as a chance to further their mission.
At Crosby Hops, we get excited about recertification and embrace the opportunity to try and improve our score. "We have no interest in hitting the minimum requirements needed to recertify," says Blake Crosby. "We want to prove to ourselves and others that we're continuing to move forward and make improvements. It's a lifetime journey, and each time we get our score, it's an objective measure of our progress."
Since our initial B Corp certification in 2016, we've continued to address areas in an effort to improve our score and move closer to fulfilling the vision of the company we hope to be.
As a result of our efforts and improvement, in 2019 Crosby Hops was honored with the Best for the World Changemaker Award, reserved for businesses with an impact score improvement ranked in the top 20% of all B Corps.
Below are some of the initiatives that we've tackled, which paint a picture of the ongoing nature of certification. Your vision isn't meant to be fulfilled all at once, but instead is something to continually work toward.
Recent Accomplishments
We've continued to tackle initiatives that are important to the environment and our team. In the past couple of years, we have:
Improved health benefits, increasing parental leave, expanding our health insurance network, and making family benefits more attainable.
Increased our use of renewable energy by expanding our on-site solar capabilities and purchasing power from PGE that is 100% renewable. We now produce nearly 80% of our own energy, bringing us closer to our goal of being 100% energy independent.
Raised our minimum wage to $15 an hour to ensure everyone at Crosby Hops, including seasonal workers, earns a living income.
Advanced our Zero Waste® program, recruiting for the team that leads the initiative and allocating significant resources to the EHS (environmental health and safety) team.
Continued to develop female leaders and create better gender parity on our team, bringing it close to a 50/50 split.
Continued to invest in a diverse workforce that offers people of all backgrounds a path to success in the craft beer industry.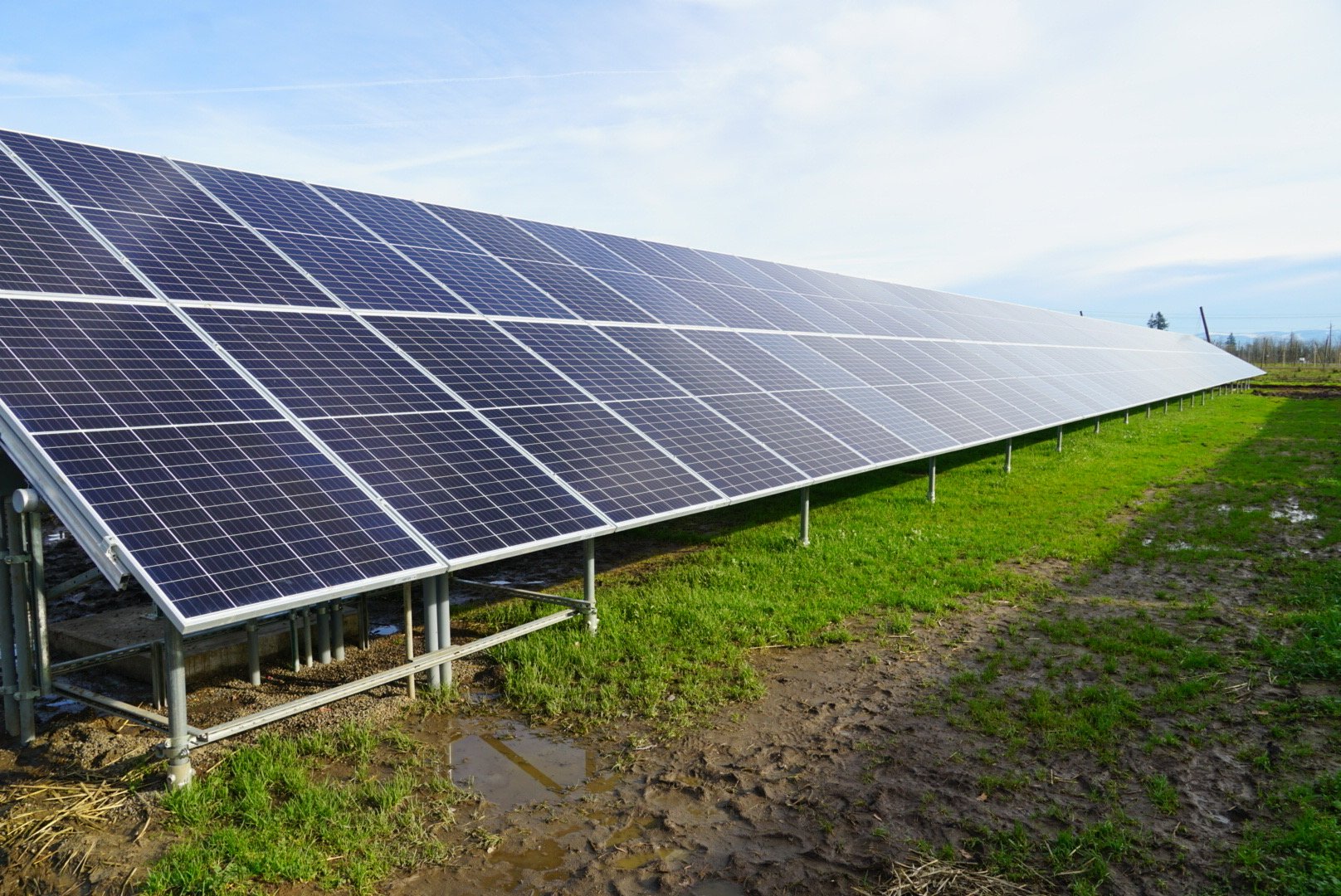 Future Challenges
Even as there's work to be done on the above initiatives, we're constantly looking ahead to the future and ways in which we can improve. These are big challenges, some of which we don't yet have solutions to, but strategies start with goals. In the near future, we'd like to:
Attain carbon neutrality in the next three to five years.
Produce the lowest carbon-impact pound of hops delivered to your door.
Become a single-use-plastic-free workplace.
Innovate packaging that enables us to be more environmentally friendly and reduce our carbon footprint.
Join the Ranks
Being a Certified B Corporation offers incredible benefits. Look around the beer industry and you'll find a number of breweries that are B Corp certified. Every B Corp has its own story and its own reasons for pursuing B Corp status. Talk to those breweries about their motivations and what certification means to them. Talk to us. If you're thinking about becoming certified, we're happy to help in any way we can. You can learn more about the certification process from B Corp's website.
B Certification is a small group, but it's not exclusive. Our fellow beer industry B Corps include The Alchemist, Allagash, Creature Comforts, New Belgium, Upslope, and Upstreet Craft Brewing. As a community, we aspire to an interdependent economy that benefits all stakeholders, not just shareholders. And the more businesses that become Certified B, the closer we get to fulfilling our vision.